In this guide we've listed and reviewed the smallest carpet cleaners shampooers that'll provide you with the convenience of portability together with impressive performance and reliability all at a reasonable price.
We had quite a hard time finding small carpet cleaners since there aren't many brands and models to choose from. This means you only have limited options to choose from and the chances of finding the smallest carpet cleaner is considerably reduced. Even those that are labelled as portable might still be a bit on the bulky side of things. You might also need to sacrifice portability if you're seriously after great performance, durability or reliability.
That said, the models reviewed below are your best bet as far as carpet cleaners which are on the smaller side of the scale are concerned.
Small Carpet Cleaners Shampooers
1.Hoover Carpet Cleaner SteamVac F5914900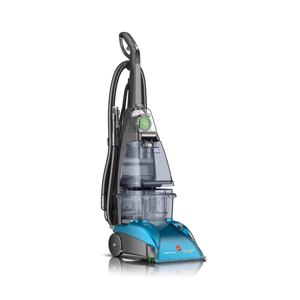 The Hoover F5914900 SteamVac, while not Hoover's most impressive product, is a powerful machine that will likely get the job done. Most notably, the "Clean Surge" feature provides users with a surge of power to tackle tough areas so that they don't have to make multiple passes. There are a few other features that make the Hoover SteamVac a nice thing to have but there are also a couple of downfalls. However, since this Hoover is on the affordable end of their product line, this could make a good cleaner for people on a budget.
Other Important Features
The Hoover SteamVac comes equipped with most of the features that you would expect from a deep-cleaning machine, including:
Multi-directional brushes: These brushes are also removable and operate at three different speeds.
Clean Surge Control: The Clean Surge setting releases extra detergent and provides a deeper clean for tough stains and extra-filthy carpets.
Heated drying: Not every cleaner has this ability but the Hoover SteamVac has a heating function that speeds up the drying process.
Dual tanks: The dual tank system separates the clean water from the dirty water so that your cleaning quality doesn't worsen over time.
12-amp motor: The powerful motor ensures that you can get that deep clean all throughout the house.
Hard flooring: The Hoover SteamVac has a mode specifically meant for hard flooring.
Attachments
The Hoover SteamVac comes with several attachments including a 11.25-inch nozzle and a 20-foot power cord.
However, this is one of the more affordable Hoover machines so it will naturally come with fewer tools and attachments. There is a single hand tool that you can use for upholstery and stairs and, while the SteamVac has been reported to be effective for homes with pets, there are no specialized tools for this kind of cleaning.
Pros of the Hoover SteamVac
Overall, the Hoover SteamVac is an effective machine for people who are working with a budget. At 20 pounds, it's not tremendously heavy but there are lighter machines out there. The attachments do allow you to clean hard-to-reach spots. Some of the other pros include:
Budget-friendliness
Deep-reaching scrubbing brushes
Ability to adjust power for dirtier spots
Pet-specific cleaning solutions that you can buy
Separate tanks for higher-quality cleaning
Single attachment for stairs and upholstery
Cons of the Hoover SteamVac
The Hoover SteamVac is more affordable than other machines, which also means that it's slightly less sophisticated than other machines. If you are looking for something truly spectacular, you may want to choose something a little more high-end. Some people also report some issues with this machine, including:
If any seals are not lined up, the machine will stop working.
20 feet is a short cord by some standards.
The clean water tank holds more than the dirty water tank so you may have to empty it in the middle of cleaning a large room.
Dirty tank is somewhat difficult to clean.
Some people have reported leaks.
Overall, this is a decent-performing carpet cleaner with several useful features but, by some standards, it's slightly difficult to use in comparison to other machines.
2.BISSELL Little Green ProHeat Portable Carpet and Upholstery Cleaner, 14259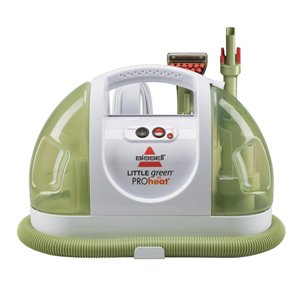 The Bissell Little Green is a multi-purpose wet vacuum (not a steam cleaner) that delivers a thorough cleaning primarily for household furniture. This isn't an upright machine so it's not ideal for large rooms or entire sections of flooring but it's perfect for spot cleaning, stairs, and upholstery and it can even be used for auto interiors.
Due to its design, the Little Green will be a bit limited in its abilities but for the right person, it could be the perfect unit so it all depends on what you plan on cleaning.
A Convenient Machine for Tough Stains
The Little Green is lightweight, portable, and powerful enough to tackle tough stains and users can easily carry this unit all throughout the house to clean various spots. As far as whole-house cleaning, though, it's not going to be very practical. Handheld tools are the only cleaning mechanism so users will have a lot of control over the way they are able to clean.
Notable Features of the Little Green
As a portable unit, the features are somewhat limited but the Little Green certainly has enough to get the job done. The most notable features include:
Heated Cleaning: The Bissell Little Green ProHeat has a built-in heater so that you can keep your water and formula hot while cleaning.
2-in-1 Crevice Tool: The crevice tool allows users to get in tight spots without losing suction. The crevice tool also sprays so that you can reach these areas with your cleaning solution.
Separate Tanks: This unit is able to keep the dirty water separate from the clean water for enhanced cleaning.
Flexible Hose: In addition to the attachments, the flexible hose allows you to reach wherever you need to.
Large Water Tank: The unit's water tank is 48 ounces, which is a good size.
Pros of the Little Green
The Little Green is very portable so you can take it anywhere and even clean your car with it. Other pros of the unit include:
Heating device helps you keep the water warm.
It sprays and suctions even with the crevice tool.
It is very portable and convenient.
It is good at picking up hair and cleaning pet stains.
Some nozzles are transferable and you can use them on Bissell carpet cleaner.
Cons of the Little Green
People often mistake this for a steam cleaner but it's simply a wet cleaner so it's closer to cleaning with a wet cloth. Other than that, people have reported some issues and the cons include:
Some people report poor suction.
For very aggressive stains, you'd have to make multiple passes.
Suction goes down over time.
Water tank is hard to clean.
Overall, this is a useful machine if you want to be able to spot clean certain areas whenever there is an accident. You can clean your entire flight of stairs or whole pieces of furniture but the larger the area, the longer it's going to take.
3.Bissell SpotBot Pet Handsfree Spot and Stain Portable Deep Cleaner 2117A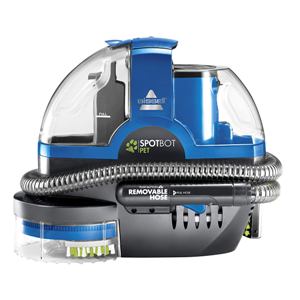 The Bissell SpotBot is a deep-cleaning spot cleaner with strong, powerful suction that is designed specifically for cleaning up pet-related messes. In addition to the portability, the SpotBot takes convenience to another level by allowing users to simply walk away while the machine does the work but it still comes with a hose and a hand tool for those hard-to-reach stains.
With the SpotBot, you'd be able to clean your carpets, your stairs, your upholstery, and your car but, as the name suggests, this machine isn't designed for whole-house cleaning.
Design and Main Features
Rather than serve as your primary carpet cleaner, the SpotBot could complement your upright vacuum and ensure that you are able to clean random stains effectively and as soon as they appear.
With the hands-free technology, you can simply place the cleaner on the stain, press the button, and let it clean while you tackle other chores. The machine's smart system ensures that it delivers the right amount of water and cleaning solution based on the type of stain but if the stain is in a corner or on an uneven surface, you can still clean it manually.
Some of the most important features of this unit include:
Hands-free technology and automatic soap delivery
15-foot power cord
Three-inch cleaning hand tool
Pet stain cleaning solution
Rapid, spiral brushes
Quick clean and deep clean modes
Alarm notification system
Separate tanks for clean and dirty water
Pros and Cons of the Bissell SpotBot
The SpotBot is great for homeowners who need something that can aggressively tackle stains no matter where they appear.
The advantages of this machine include:
Powerful cleaning that can remove virtually any stain
Specialty in spot cleaning and small stains
Hands-free technology and automatic smart system
Easy, straightforward manual cleaning
Ease of storing, light weight, portability
Included cleaning solution
There are some downfalls, however, and these include:
The machine doesn't move around so hands-free cleaning is limited to small stains.
Machine leaves a visible imprint on the carpet.
Dirty water reservoir is difficult to clean.
It comes with few accessories.
Using the Automatic Cleaning
Another reason why the Bissell SpotBot a practical option is that the automatic cleaning is easy to use. You just have to place the cleaning mechanism over the stain and press start on the cleaning setting that you want. You can make it a quick clean if the stain is fresh or mild but for deeper, tougher stains, there is a "set-in stain" setting that you can use. Whenever you need to use the hose, simply press the "hose" setting and the suction will switch.
Overall
Overall, the hands-free cleaning is a nice touch and very convenient if you actually use it. The SpotBot appears to be quite powerful so you should have no problems tackling tough stains; however, the bigger these stains get, the less effective the SpotBot will be at cleaning them.
4.Hoover Max Extract 60 Pressure Pro Carpet Deep Cleaner, FH50220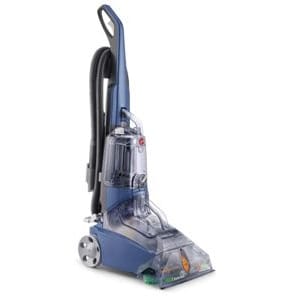 The Hoover Max Extract is a versatile machine with the ability to clean tile floors and some sealed wooden floors as well as carpet. It uses a pressured cleaning system to power wash surfaces and many people praise the machine for being able to provide an even suction in all areas. The machine cleans just as well on the edges as it does in the center; while that's good, users should be careful about using this next to things such as wooden baseboards as hot water could spray onto the wall.
Being on the more affordable end of the spectrum, the Hoover Max Extract provides a powerful clean for people on a budget but there are some downfalls that you might not find with a more high-end cleaner. Some of the specs include:
20-foot power cord
10 amps power
Weight of 22 pounds
12-inch width
Special Features
The Hoover Max Extra features a pressured cleaning system that sprays water jets from its brushes, providing an edge-to-edge clean. These brushes also rotate as they are spraying water and it automatically mixes the detergent and the water prior to cleaning. Given its ability to deal with water, the cleaner also has a spill pickup mode for cleaning wet messes.
In addition to the wet cleaning method, the machine also features a heating mechanism that speeds up the drying process. Other features include:
A separate tank for clean and dirty water
A nine-foot hose with upholstery tool
A rinse mode that delivers water only
Pros and Cons of the Hoover Max Extract
The best parts of the machine include:
A wide path for edge-to-edge cleaning
High-powered motor close to professional grade
SpinScrub technology for better cleaning
Pressurized water for more powerful cleaning
Quicker drying
Good-size tank
The disadvantages include:
Brushes only rotate at one speed.
It is slightly heavier than some other models.
There is no powered hand tool.
It comes with just one accessory.
An Easy-to-Use Machine
The Hoover Max Extract is sturdy and easy to use with very little setup. It has been designed for usability but with most of these machines, the tanks and lids can give people a little trouble. When things aren't aligned properly, the machine may not work properly or at all so it is important to remove and insert these pieces carefully.
Even though the brushes only have one speed, this minimizes the number of controls so that there's less confusion and the automatic mixing removes another step of the cleaning process as well.
Professional-Level Results
Many people praise this model for providing professional-level results without the hefty price. The machine operates with 10 amps and this is close to some professional-grade machines such as the Rug Doctor that operate at 11 amps so you know that you are getting a powerful clean. Most of the time, cleaning solutions are included with your purchase and with the automatic mixing feature, you won't use up more than you need to.
Conclusion
There aren't many options to choose from as far as the smallest carpet cleaners shampooers are concerned. However, if you're looking for a model that is small and still does the job pretty well, then you can't go wrong with any of the models reviewed above. They are each portable, reliable and won't disappoint whenever you're busy cleaning your dirty carpet.