If you have some pets in your house that shed a lot, then you definitely know how a pet hair vacuum can be beneficial in such a situation. With this in mind, we created a detailed guide that lists and reviews the 10 best vacuums for pet hair 2020.
While vacuum cleaners are meant for cleaning your floor and carpet, there are many models that are designed with pet hair in mind. It's therefore important to know the exact features to look for when you specifically want a vacuum cleaner that can get rid of all the pet hair and dander in your house.
If that's the case, then you'll be pleased to know that we have a detailed guide just below the reviews that describes the most important features you'll need in a pet hair vacuum cleaner. We kindly advise you check it out before making any purchases.
With that said, let's now take a look at these 10 vacuum cleaners and find out why they are our best vacuums for pet hair 2020, shall we?
Best Vacuums For Pet Hair 2020
1. Shark APEX Upright Vacuum (AZ1002)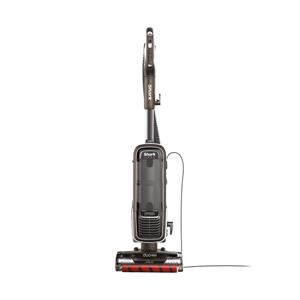 If you need a strong vacuum cleaner that can thoroughly clean both carpet and hardwood floors, the Shark APEX upright vacuum is what you need. It has a special self-cleaning feature that gives you great efficiency with nonstop hair removal, guaranteeing no hair will ever get stuck around the rollers and cause the vacuum cleaner to break. With special attachments for pets, upholstery, and cleaning crevices, the Shark APEX provides the ultimate cleaning experience regardless of the type of floors you have.
This vacuum cleaner also offers deep-cleaning capabilities and sits directly on the floor to make it look even shinier, and the detachable canister extends the reach of the cleaner head to help you clean hard-to-reach places, such as underneath furniture. Even if you own pets that shed a lot, you will no longer have to put up with hair everywhere because its strong suction power gets rid of the hair before you even realize it's there. It does a great job of picking up tiny sand-sized particles and reaches deep to provide the ultimate clean, and it is easy to maneuver as well.
The Shark APEX vacuum cleaner has a very long, sturdy cord, and it is very easy to assemble. You can use it for all types of floors and even for staircases, furniture, and drapes or curtains. This is a very versatile cleaning device that uses unique technology to provide the ultimate clean when you want your home to be as spotless as possible. Emptying the dirt bin is a piece of cake, and the wheels make it a very easy vacuum cleaner to take with you from room to room. Even extra-dirty carpet or older hardwood floors are easy to clean with this vacuum cleaner, and it is a well-built machine that is built to last for many years to come.
Regardless of the current condition of your floors, the Shark APEX vacuum cleaner will get them cleaner than you think, and it will quickly make your life a lot easier because of its top-notch cleaning power, overall convenient design, and its ease of use that makes all of your floor-cleaning tasks a lot easier.
Pros:
Super-strong suction power
Special technology for nonstop hair removal
HEPA filter that provides relief from allergies
Cons:
Some parts are prone to breaking
A bit heavy
2. Shark Rotator Powered Lift-Away TruePet (NV752)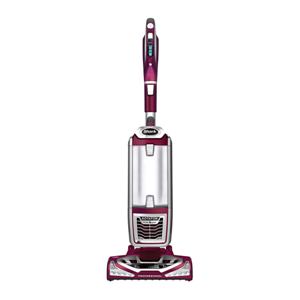 The Shark Rotator vacuum cleaner with super suction power and a canister that detaches to make cleaning hard-to-reach places a lot easier to do. The technologically advanced HEPA filter offers the ability to trap dust and allergens for a sneeze-free home, and it comes in a large size that guarantees efficient cleaning every time. At the flip of a switch, you can go from cleaning your carpets to cleaning your hardwood floors, and it has a dust cup that holds more than three quarts of dry dust.
This vacuum cleaner comes with a special attachment that makes cleaning up after pets a lot easier, and you can use it to clean everything from carpets to furniture and area rugs to draperies. It is also extremely easy to use, making emptying the canister, attaching any of the accessories, and changing the configurations very simple on the user's part. It is also lightweight, but very powerful, and its cost is a lot lower than most people realize.
The Shark Rotator is also a very versatile vacuum cleaner because it is able to get into any nook or cranny in your home, and its push-button design allows you to change settings and go from job to job with little action on your part. In addition, the Rotator also has a bright light that shines on the floor before you, helping you to catch everything that's ahead of you so that you don't miss anything while cleaning. The various attachments that come with it are extremely useful, and it even removes dog hair if you have a dog that sheds large amounts of hair on a regular basis.
Easy to put together and even easier to use, the Shark Rotator is a reasonably priced, but very powerful vacuum cleaner that is great for both homes and businesses of all types and sizes. In fact, even if you've recently had your carpet professionally cleaned, you can use this vacuum cleaner and pick up a large amount of dust and dirt, so your floors, upholstery, and drapes are guaranteed to look their best at all times.
Pros:
Very high-powered and efficient
Very reasonably priced to fit all budgets
Comes with a number of convenient attachments
Cons:
Durability issues
Poor warranty coverage
3. New Miele Complete C3 Cat and Dog Canister Vacuum Cleaner
One of the biggest advantages of the Miele vacuum cleaner is its footswitch pedals, which make it super simple to operate and switch back and forth whenever you want to clean something new. The motor consists of six separate speeds that allow it to quickly and easily clean carpet, hardwood floors, upholstery, drapes, and much more. Its 1200 watts are behind its excellent suction power, and it comes with a variety of accessories and attachments that make cleaning anything much easier than you think.
With this vacuum cleaner, there is a metal insert in the handle that prevents any type of static discharge, as well as accessories that include a variety of brushes specifically made to more thoroughly clean numerous items in your home. The entire vacuum is made out of high-quality parts, and it is so lightweight that dragging the canister behind you as you vacuum is a piece of cake. It is a great vacuum cleaner to have when you need to have allergens removed, and it is so simple to operate that even teenagers and older children can use it with ease.
The Miele vacuum cleaner has also been proven to do better than many of the vacuum cleaners made by more well-known and reputable brands, and it is so sturdy that it is guaranteed to last for many years to come. Even if you have dogs or cats that shed a lot, this vacuum cleaner can handle the mess, and it does such a great job that you won't have to use it very often to keep up with the dirt and dust that needs to be removed. It also has a retractable cord that makes finishing your work much easier to do, so if you're looking for a reliable vacuum cleaner that thoroughly cleans your home time after time, this is it.
The various settings make it perfect for all types of jobs, and it is also very quiet, allowing you to carry on a conversation with others while you're cleaning. It's a great overall vacuum cleaner that can be used to clean a variety of items.
Pros:
Amazing suction power that cleans thoroughly every time
Useful accessories that make each job much simpler
Cleans better than many more-expensive brands
Cons:
Some accessories may not do the job well
A bit pricey
Some functional issues with the motor
4. Dyson V11 Animal Cordless Vacuum Cleaner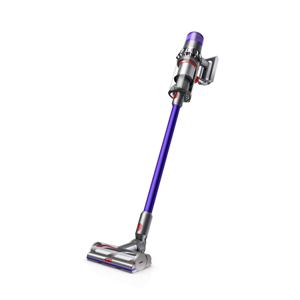 Dyson is known for its high-quality vacuum cleaners, and this one is no different. Available in interesting colors such as purple and complete with LED screen displays to make it easy to operate, the Dyson V11 vacuum cleaner offers twice the suction power of other cord-free vacuum cleaners and boasts up to 60 minutes of cleaning time on each charge. It does a great job of cleaning hard-to-reach places such as underneath furniture, and it transforms into a handheld vacuum cleaner with just a few adjustments.
Easy to use and lightweight, the Dyson V11 vacuum cleaner comes with extra accessories for thorough cleaning of your home and vehicle, as well as the ability to clean everything from carpet to hardwood floors and draperies to upholstery. It even removes 99% of microscopic particles and dog hair without messing up its overall cleaning power, meaning you can clean room to room with no worries about its overall effectiveness. It even comes with alerts when it needs maintenance or more charging, making it a simple and convenient vacuum cleaner to keep in your home.
The Dyson V11 vacuum cleaner may be small and lightweight, but don't let that fool you. This is one very powerful vacuum cleaner that does a great job every time you use it, and it is both easy to put together and easy to use. You can even trust it to your teenager because it is that easy to use, and its efficiency will shock you, especially if you're used to vacuum cleaners that don't pick up dirt and dust very well. Many users even compare it to shop-vac machines because of the amount of gunk it removes from your floors, and it is perfect for both whole-house cleaning and spot-cleaning throughout the week.
If you need a simple-to-use, but very powerful vacuum cleaner because your home is a challenge to vacuum, this one will not let you down. It is made for great efficiency and long-term durability, so you can plan on enjoying it and keeping it around for many years to come.
Pros:
Great suction power, regardless of the size of the job
Very lightweight and easy to use
Removes up to 99% of dirt and grime in your home
Cons:
5. Tineco A11 Master Cordless Vacuum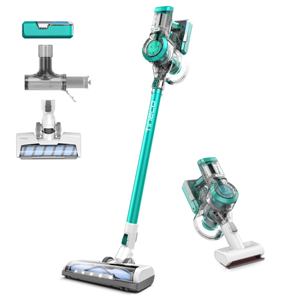 The Tineco A11 Master cordless vacuum cleaner is a lightweight, but very efficient, vacuum cleaner that is easy to use and runs up to 60 minutes every time it's charged. It has two detachable batteries that allow it to run long enough to vacuum the entire home, and you can even charge both batteries at the same time to provide the running power you need to complete the job. Its dustbin is 50% bigger than most other dustbins, and it comes with several cleaning tools, an additional pre-filter, a two-year warranty, a continuous power mode switch lock, and a total of seven accessories for your convenience.
One of the Tineco A11 vacuum cleaner's biggest advantages is its lightweight and easy-to-use design, so if you're looking for something with extra-strong suction power, but which is easy to maneuver regardless of which room you're in, this is it. Best of all, you can use this vacuum cleaner for both hardwood floors and carpet, and it's even easy to switch between the two. Stick vacuum cleaners such as this one also take up very little room, so you can bring it from room to room with little effort on your part.
One of its most popular features is the carpet attachment that contains both stiff and soft bristles, which means it is easy to get the deep-cleaning that you will periodically need. It does a great job on both carpet and regular floors, and it also makes your cleaning jobs more efficient than usual and, therefore, the job you need done will never take that long to finish. The Tineco company has done a great job at paying attention to every single detail of this machine, so regardless of what you're looking for in a vacuum cleaner, they can provide it to you every time.
Looking for a vacuum cleaner that doesn't cost too much and which offers exceptional cleaning power just got a little easier, because the Tineco A11 vacuum cleaner is ready to provide the expert cleaning jobs you both need and deserve. Simply put, it is a top-notch vacuum cleaner that you'll be able to count on for many years to come.
Pros:
Easy to use and doesn't weigh much
Has exceptional suction power
Cleans quickly, but efficiently, every time
Cons:
Some of the features work intermittently
6. Shark Navigator Lift-Away Professional NV356E
Weighing a mere 13.7 pounds, the Shark Navigator professional vacuum cleaner is lightweight and portable, but very powerful as well. Its excellent HEPA filter traps 99% of dust and allergens inside of the unit, and it has an easy-to-press button that allows you to quickly remove the canister so that you can super-clean hard-to-reach places, such as underneath your furniture. It also has a 30-foot cord that makes it easy to bring it from room to room, as well as the ability to clean both carpets and hardwood floors of all types.
With this vacuum cleaner, you can switch from suction only to using the brush for an extra deep-cleaning with little effort, and it does a great job cleaning up pet hair, regardless of the density or length of the hairs. You get both a standard brush and a gentle brush to accommodate both carpet and hardwood floors, and one of the things people love about it most is its bagless feature – no more bags to purchase for your vacuum cleaner!
The Shark Navigator vacuum cleaner has a wide 9.25-inch cleaning path, and it even has a light that indicates when the brush is engaged, which is a very convenient feature. Best of all, it is super-easy to push back and forth, and when you're using it on your carpet, it will work on both short and long and thick carpet without damaging the brush that you're using. You can also use it for more than just your home, because cleaning your vehicle or boat is much easier with this vacuum cleaner at hand.
Indeed, even extra-thick carpets and older hardwood floors can get super-clean with the Shark Navigator vacuum cleaner, and it's so powerful that you'll be able to use it in your home and even a commercial building if you like. It provides high-quality cleaning power with the ease of use that is important to most people, and best of all, it won't cost you a fortune to purchase this excellent vacuum cleaner. This means people with all budgets can easily afford to purchase this unit.
Pros:
Very powerful and efficient for jobs of all sizes
Lightweight and easy to use
Reasonably priced to fit all budgets
Cons:
Some complaints about the brushes breaking rather quickly
7. Dyson Ball Animal 2 Total Clean Upright Vacuum Cleaner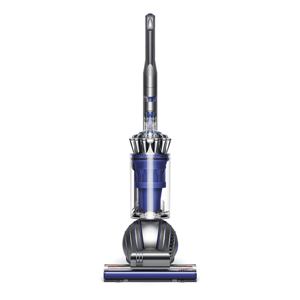 The Dyson ball animal upright vacuum cleaner is one of the strongest and most powerful vacuum cleaners on the market, being able to clean both carpet and most types of floors. The cleaner head is self-adjusting and, therefore, allows you to switch between various types of flooring with little effort on your part. It comes with a total of six tools, including several brushes and turbines and tools for mattresses, cleaning hard-to-reach places, and stairs, to name a few. Whatever you need it to do, it will never let you down, and its 35-foot cord makes it super easy to bring from room to room with little work.
If you need a super-powerful vacuum cleaner because you have pets that shed or messy kids, the Dyson upright vacuum cleaner is certainly one to consider. The HEPA filter is extremely efficient, and it is very effective at removing even tiny particles of dirt and dust that can make your floors look dingy and old. It is certified asthma- and allergy-friendly, and it comes with a convenient five-year warranty. You can clean both up high and underneath items such as furniture, as well as use it for carpets, upholstery, and area rugs, making it a very versatile machine. It is even available in a fun and attractive purple color!
One of the biggest advantages of this vacuum cleaner is its ability to clean even older, shag-like carpet efficiently, so if you own an older home you'll find it easy to keep it cleaner than you thought possible. Dyson has paid close attention to every single detail of this vacuum cleaner, even providing you with features such as a high-power motor, a wall adapter plug, free tools, and easy-to-understand assembly instructions that make putting it together a breeze. Even dense and long pet hairs are easy to remove from carpet, furniture, jackets, and clothing.
If you need a super-efficient vacuum cleaner and have challenging situations at home, such as pets that like to shed, you need this vacuum cleaner. It is definitely a purchase you will never regret.
Pros:
Self-adjusting feature lets you switch from carpet to flooring with no effort
Removes even the most stubborn of pet hairs
Comes with a variety of extras that all users will appreciate
Cons:
A bit difficult to use
It gets clogged frequently
8. Bissell Air Ram Cordless Vacuum, 1984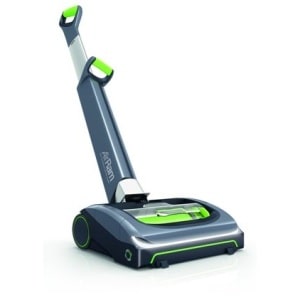 Available in attractive colors such as green, the Bissell Air Ram cordless vacuum cleaner provides 40 minutes of power once it's been charged, allowing you to clean your floors quickly and efficiently every time. Its removable lithium battery charges with ease, and its lightweight, compact design makes it easy to bring from room to room with little effort on your part. This vacuum cleaner weighs less than eight pounds and has a collapsible handle that makes it easy to store away when it's not in use. In addition, the LED display lets you know how much dirt and dust are in front of you, making it easier to get all of it up so that your floor is as clean as possible.
The Bissell Air Ram vacuum cleaner offers swivel steering and a handle that lays flat, allowing you to go from room to room with ease and clean around and under all types of items, from furniture to lamps and much more. The dirt bin is easily removed and consists of a slider that does a great job of pushing out debris, dirt, and dust, making your cleaning job exceptionally efficient. Best of all, the vacuum cleaner can clean hardwood floors, carpet, and just about anything else, including furniture, draperies, area rugs, and even jackets and clothing.
To charge the battery, you can charge it while it's on the vacuum cleaner or apart from it, and you can get roughly an hour's worth of cleaning once it's fully charged. It is a lightweight and compact vacuum cleaner that cleans better than you'll expect it to, and it is easy to use and easy to maneuver around the room when it's in use. Furthermore, it doesn't take much effort to run the vacuum cleaner, thanks to its ease of use and smooth ride that makes the job both fast and simple on your part. If you're looking for a reasonably priced, easy-to-use, and very powerful vacuum cleaner, look no further because this is it.
Pros:
The battery lasts a long time and allows you a lot of usage time in between charges
It is very lightweight and simple to use
It can clean all types of floors, as well as all types of carpet
Cons:
9. Hoover Pet Max Complete Bagless Upright Vacuum Cleaner, UH74110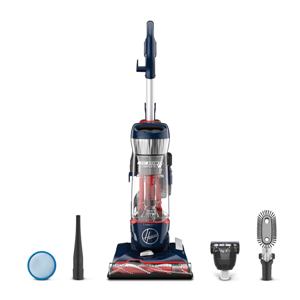 This vacuum cleaner is made by one of the top companies for vacuum cleaners, so you know you can rely on it to work efficiently and last for a very long time. The Hoover Pet Max upright vacuum cleaner has a brush roll on/off switch that lets you go from hardwood floors to carpet with little effort, and you can use it much longer than other vacuum cleaners thanks to its extra-large, 2.5-liter dirt bin that holds a lot of dirt and grime and is super easy to empty and clean. It also comes with a variety of tools that lets you get rid of pet hair and clean stairs with ease.
You also get several very useful accessories with this vacuum, including a flexible dusting brush, a pet turbo tool, a tool to clean even tight crevices and spaces, and an additional filter that is rinseable and therefore easy to clean. It gets rid of up to 97% of dust, pollen, and pet dander, so if you have allergies, this is a great appliance to have around. The dustbin is convenient because there are never any bags to continuously purchase, and since it only weighs around 17 pounds, you can transport it from room to room every time with little effort on your part.
You can always trust Hoover to make a sturdy, high-quality vacuum cleaner, and the Pet Max Complete is no different. It is perfect for any household that has pets or kids, and many people find it more efficient that other vacuum cleaners that cost three times the price. With outstanding cleaning ability, you can even use this vacuum cleaner for your car, pickup truck, SUV, or even your boat, because it is simple to carry around with you as you clean each item.
If you're looking for a reliable and long-lasting vacuum cleaner with outstanding suction power, this is it, and it is definitely an appliance that you will not regret purchasing anytime soon. Its price is also reasonable, accommodating people with all types of budgets and making it affordable for everyone.
Pros:
A high-quality item made by a trusted brand
A lightweight and easy-to-use vacuum cleaner
Very reasonably priced regardless of your budget
Cons:
10. iRobot Roomba 960 Robot Vacuum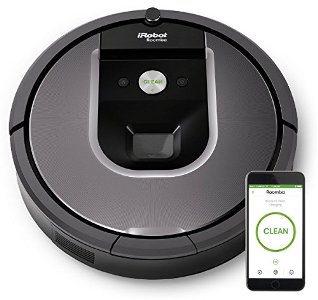 With super-advanced technological features and the ability to work with systems such as Alexa, the iRobot Roomba vacuum cleaner is an amazing device that can clean your entire home without you having to lift a finger. It uses WiFi to map out where it needs to go and cleans every inch of your home, going from room to room and going in and around the furniture so that nothing goes untouched. Even better, it cleans both carpet and hardwood floors, and its pickup power will amaze you. The Roomba is more reliable and efficient than many people realize, and it is ideal for homes with pets or messy kids in them.
In addition to its ease of use – what could be easier than a vacuum cleaner that works on its own? – the Roomba contains many cleaning brushes that easily adjust to all types of surfaces, and it has a high-efficiency filter that will capture up to 99% of allergens from dogs and cats. If you suffer with allergies, therefore, this vacuum cleaner is the right purchase to make. If it needs to recharge, it does so automatically, which means it will run without interruption while you concentrate on other things. Furthermore, if you use it along with Alexa or Google Assistant, you can customize how well it cleans and allow it to run even more efficiently.
The iRobot app makes it easy to use even if you're resting on the couch, and it comes with both the batteries you need and a complete instruction guide, allowing you to use it as soon as you get it out of the box. It even includes a sweeping brush specifically designed to work on edges and a cleaning head that adjusts automatically, and it will even sense when it's on a set of stairs and will never fall off of them. If you think you're too busy to keep your floors clean, think again. The Roomba is an amazing device that all busy homeowners need, making this one purchase you'll never regret.
Pros:
Picks up an amazing amount of dirt and dust in a short period of time
Works all by itself and, therefore, allows you to tend to other household chores
Works with apps, Alexa, Google Assistant, and many other systems
Cons:
Some concerns about its overall efficiency
How to Choose the Perfect Vacuum Cleaner for Pet Hair

Buying a vacuum cleaner that cleans efficiently can be challenging enough on its own, but if you have messy kids or pets in your home, it can be even more difficult. After all, pets can shed quite a bit of hair all year long, and if you have cats or dogs with very dense or long hairs, finding a vacuum cleaner that will pick them all up and get them off of your floors may not be as easy as you think. If you groom your dogs regularly, it helps a lot in reducing the amount of hair that is found in your home, but this cannot eliminate all of this hair, which is why regular cleaning with a top-notch vacuum cleaner usually goes a long way in keeping those pet hairs at bay.
Regular Cleaning Is Important
If you have pets in your home, the only way to make sure pet hair doesn't get out of control is to clean your floors regularly. After all, the last thing you want is to have visitors avoid coming to your home because they dislike the amount of pet hair that gets all over their clothing every time they pay you a visit. Regular cleaning of your floors may not eliminate every single pet hair from your home, but it will eliminate enough of them that visitors will likely not notice that the hair is still there. If you have vinyl, laminate, or hardwood floors in your home, the pet hair can accumulate and form little tumbleweeds of mess, which is both more difficult to get rid of and very unsightly for everyone in the household.
Fortunately, there are now specialized vacuum cleaners that are specifically made to remove pet hair, and most of them have specially made parts and accessories that make picking up the pet hair much quicker and more efficient. Many of these vacuum cleaners have specialized brushes that are made so that the hair doesn't get tangled up in the rollers and is therefore easier to pull into the vacuum cleaner so that you can empty it out afterwards. If a vacuum cleaner is made for pet hair, you can count on it to work the way you think it should, and the best part is, they are made in various price ranges and are, therefore, affordable for everyone.
Roller Brushes and Much More
In addition to specially made roller brushes that get rid of the hair efficiently, there are other features considered important when you have pets in the home, especially pets that shed frequently. An air-filtration system that traps allergens associated with pet dander and hair is also important, because not only is removing the hair important, but it is also important to remove both allergens and pet odors from the air so that everyone in the home can breathe a lot better. If you suffer with frequent upper-respiratory problems, itchy or watery eyes, or even headaches and runny noses, you could be allergic to pet dander, but the right vacuum cleaner will take care of this problem and keep you much more comfortable from then on.
Naturally, you'll also want a very efficient and powerful vacuum cleaner and one that has excellent suction power, because this is the only way to make sure it can suck up all of that pet hair so that it can be disposed of properly. Many of the vacuum cleaners made specifically for pet-owners also have special attachments, including brushes of all sizes and types that are made to lift all types of pet hair from all types of surfaces. This is important for yet another reason, because along with removing the pet hair it will also remove large amounts of dirt, dust, and grime, allowing your floors to be as clean as possible at all times.
In addition to all of these things, many vacuum cleaners made for pet-owners have special filters that eliminate pet odors and which can even have an odor-eliminating air freshener in them, meaning you'll get not only a clean floor after vacuuming, but also a fresher-smelling home that is devoid of most or all of the pet odors that used to be there. You should also consider getting a vacuum cleaner that works as both an upright and a hand-held unit, because removing pet hair is a continuous job that usually requires cleaning of furniture, underneath furniture, and of items such as end tables, lamps, and many others.
Always Trust the Right Brands
Much like buying vacuum cleaners for other reasons, choosing the right unit for hair-removal means trusting the right brands. When you're researching vacuum cleaners that are specifically made to remove pet hair, you should always use two methods to make your final decision: finding a trusted, top-notch brand, and reading real-life online reviews that say just what you want them to say. Top brands, especially brands that make vacuum cleaners for pet owners, are the best way to go because you know they're going to be reliable and that you'll be happy with the results.
Top brands also offer features such as self-cleaning buttons that will detangle the pet hair that gets into the roller brushes and adjustable units that will clean both flat hardwood floors and thick carpets to remove every last bit of pet hair. Tools and accessories that can efficiently clean stairs and get into cracks and crevices are also important, because as most pet parents know, pet hair can be found anywhere in your home. Any vacuum cleaner that is able to thoroughly clean all of the nooks and crannies in your home will certainly be able to remove the pet hair in an efficient and reliable manner.
Final Thoughts…
Choosing the best vacuums for pet hair 2020 that do a great job of eliminating pet hair is a lot easier once you know what you're looking for, especially if you do your due diligence and research models that are specifically made to remove pet hair so that your home and your health both improve.