Hard water can create a number of problems for your family. And if you want to minimize these issues as much as possible, then it's wise to invest in a good water softener. So if you're searching for a great water softener for your home, this guide on the best water softeners 2020 has you sorted.
Before you get out your hard earned money and purchase a water softener, it's important you first know the suitable size of water softener that will serve your family conveniently. Depending on the number of people in your home, you need to choose a suitable size that's not smaller or bigger than your family can handle.
You also need to know the features that your family needs in a water softener. This is important if you don't want to feel as if your purchase was a waste of money. With this in mind, we have a detailed buying guide just below the reviews to help you choose a water softener that's more suited to your family's needs.
But first, here are the 8 best water softeners for 2020 that you can buy today.
Best Water Softeners 2020
1. Fleck 5600SXT 48,000 Grain Water Softener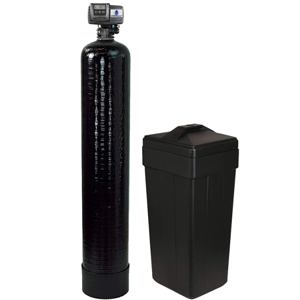 A digital whole-house water-softening system, the Fleck 5600SXT is made in the USA and offers the ability to treat up to 12 GPM service flow rates, or 28 GPM peak. This means it can satisfy the needs of a family of six with moderate to very-hard water in their home. It is a standard black color and weighs only around 20 pounds. It can be installed outside if that's where you want it installed, as long as you keep the electrical connection covered, and the control valve is waterproof for your convenience.
Choosing the Right Water Softener Is Easy
After the water is softened, there is no need for the homeowner to do anything special because the system takes care of draining out the water and recharging the system itself. In fact, even professional water-softener installers are impressed by the efficiency and reliability of the Fleck water-softening system, because it is just that good. Some people install the system themselves while others rely on a professional, but in either case the system starts working immediately after being installed. This is a truly high-quality system that is made to last a very long time, so you can count on it being around for many years to come.
A High-Quality System That Lasts
A water softener is only as good as the parts that make up the system, and the Fleck water-softening system is made out of top-notch, sturdy parts that enable it to work properly and without worry. After all, the last thing you want is to have your water softener stop working after only a short amount of time, and this is never a worry with this particular system. The system is easily programmable even for beginners, and it is a very reliable system as well. Whether this is your first water softener or your tenth, it is certain to be your favorite system once it's installed.
Other features include a bypass valve, 1" male threaded yoke connection, and a black square brine tank with safety float, adding to its efficiency and effectiveness. The company offers excellent warranties on the product, and you can even store the brine tank fairly far from the house and the system will still work the way it's supposed to. In most cases, the salt bag doesn't have to be filled more than once a month or less often, and the system doesn't affect your water pressure in either the upstairs or downstairs areas, making it a very convenient system to have in your home.
2. AFWFilters WS48-56sxt10 Fleck Water Softener, 48K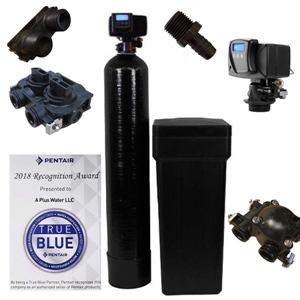 This Fleck water-softening system comes with a standard 14 x 33 brine tank, mineral tank, and the valve with both an adapter and bypass. It has a digital metered control head and a sturdy poly-glass tank, as well as an installation kit that makes it easy even for beginners to install the system. Indeed, it comes with everything you need to make sure the system is installed properly and works efficiently afterwards, and once it's installed it practically works on its own from then on.
Some of its Many Benefits
This water softener comes with specs that include 125 PSI maximum pressure, a 14 GPM flow rate, and a water consumption rate of only 3.5 GPM. You do not need batteries because it attaches to your air-conditioning system, and it removes calcium and magnesium ions which are the main causes of hard water, making your water instantly soft again. The brine tank can hold up to 250 pounds of salt, and the safety float guarantees it will never overfill itself. With the hardness test strip that is included with the system, you can even test your water periodically to make sure it is soft enough for your needs, providing you with the peace of mind you need and deserve.
Other features of this amazing water softener include an LCD display touch pad and an interface that is very user-friendly. The product is easy to install, works great, lasts a very long time, and is inexpensive to boot, making it a great choice for nearly everyone. In fact, when you compare this water softener to other leading brands, most users find the Fleck system to be far superior, especially when you consider its very reasonable cost. Better still, if you need assistance at any point, the company has a great customer service department that can help you.
Choosing the Best System Is Simple
When you need a water softener, you naturally want the very best system available, and the Fleck 48,000-grain water softener is always a great choice. It offers many advantages over other brands and is one of the easiest systems to install. Most homeowners find they need to add salt no more than once a month, and thanks to the company's excellent warranties, you'll be able to keep this system for many years to come. When you want the very best, therefore, the Fleck 48,000-grain water-softening system can't be beat. It's simply one of the best household additions you'll ever purchase and a decision you won't regret.
3. Whirlpool WHES30E 30,000 Grain Water Softener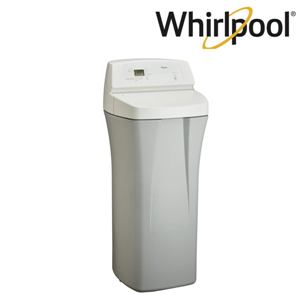 You can't ask for a better brand than Whirlpool, and the WHES30E water softener is one of the best on the market. It uses special technological advances to save both water and salt, and it is perfect for households of most sizes. In fact, this system can remove up to 8 ppm of clear water-ferrous iron, and it also removes numerous symptoms related to hard water, including plumbing and faucet buildups, embarrassing stains, and even spots on your dishes. One of the reasons it saves water and salt is that it automatically calculates the amount of these ingredients that are needed to regenerate itself, which means it is only using what it actually needs at any given time.
Make Sure it Is Reliable
Made entirely in the USA, this 30,000-grain water softener comes with excellent warranties on both parts and labor, which means you can buy it with confidence every time. It is sturdy and made to last, and it comes with a bypass valve, instruction manual that is easy to understand, and a kit that has everything you need to make sure it is installed correctly so that it doesn't give you problems afterwards. It does a great job keeping your water soft, and it doesn't require refilling the unit with salt very often.
If you want your skin to feel less dry and your clothes to look brighter and less dull, you likely need a good water-softening system, and the Whirlpool system is an excellent choice. It is reliable and produces a difference you will see immediately. It is also very reasonably priced, leaving you with one less reason not to purchase the system. Water softeners are used for a variety of reasons, and whether you have two people or six living in your household, this is a great device to install because you'll be able to enjoy its benefits for many years to come.
Doing Your Homework
When it comes to water-softening systems, a little due diligence on your part is always recommended, and the Whirlpool water softener will always end up on your list of high-quality products. With simple installation instructions and a user-friendly advantage, you can't go wrong with this system because it does everything a good water softener is meant to do. Your clothes will look better and there will be much fewer stains on your glasses and dishes, which is why purchasing the Whirlpool water softener is a decision you will never regret.
4. On the Go OTG4-DBLSOFT Portable 16,000 Grain RV Water Softener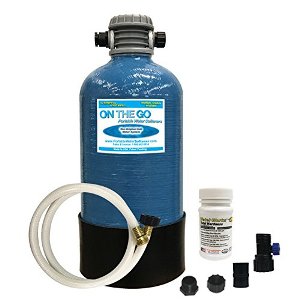 The On the Go OTG4-DBLSOFT water softener is made specifically for RVs and marine-type vehicles, and it supplies roughly 40% more soft water than other comparable brands of water softeners. It uses standard table salt and can regenerate in less than 30 minutes, supplying up to 1,600 gallons or 40 days' worth of soft water every time. If you're traveling in your RV and you have hard water, this portable water softener is what you need because it is compact and extremely efficient, not to mention easy to fit even in the tightest spaces.
The Many Benefits of the System
One of the biggest advantages of the OTG4-DBLSOFT water softener is that it does a great job while producing very minimal drops in the water pressure, even though it allows for high flow rates. You can install it with no tools whatsoever because it connects with a simple garden hose that runs from your RV to the park faucet. It has a large mouth that makes pouring the salt in a simple task, a cap-and-plug option that prevents leakage problems, and it is made out of high-grade premium resin for longevity and durability. Furthermore, its compact design allows you to store the unit in a dockside locker or your own storage bay.
Making Your Lift a Little Simpler
The On the Go water-softening system is specifically designed to make regeneration very simple and fast on your part, so using it is never a time-consuming task. Its 22" x 9.5" design makes it a great addition to RVs of any and all sizes, and it is perfect if your goal is to minimize rust stains, improve the taste of your water, eliminate any odors from your water, and avoid any scale buildup. This, in turn, means it can actually increase the lifespan of your appliances, which is one of its many and most important advantages.
Included in this water softener are test strips to test the hardness level of your water, inlet/outlet caps for easy storage, and a 4-foot drinking hose, as well as a cradle base to keep the unit secure while you're traveling. In fact, this water softener has everything you need to keep your water soft and safe while you're traveling, and it is user-friendly for your convenience. When you need a high quality and reliable water softener for your RV travels, this is the perfect one to buy, and it makes the water you drink cleaner, safer, and much healthier for everyone involved.
5. 3M Aqua Pure Whole House Water Filtration System, Model AP904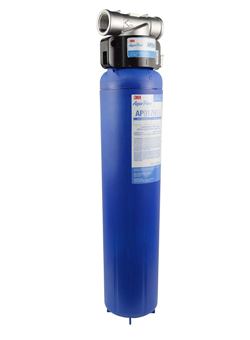 The 3M Aqua Pure whole-house water-filtration system is great for reducing chlorine taste, odor, scale, and sediment that can plague the water in your home. If you're experiencing things such as dingy-looking clothes, itchy skin, bad-tasting or bad-smelling water, or malfunctioning appliances, it might be the water coming out of your faucets, and this filtration system can clean all of that water so that it smells and tastes better, makes your clothes look better, and is healthier and cleaner for everyone in the household. This may sound like a difficult requirement, but it is simply no problem for the 3M Aqua Pure water-filtration system.
When You Expect the Very Best
If you want the very best water-filtration system for your home you deserve to get it, and this is what this system promises every time. It helps all of the water throughout your home taste better and become healthier, which includes the water used in your dishwasher, washing machine, and hot water heater, to name a few. When you own one of these systems, your appliances will naturally last longer because the water won't be damaging or corrosive to them, which provides you with the peace of mind you deserve every time.
A High-Quality System
Best of all, this water-filtration system uses high-quality corrosion-resistant materials and parts that are guaranteed to last for a very long time. It is NSF Standard 42-certified and, therefore, protects not only the water, but also food, various consumer products, and even the environment. In addition, the system is perfect for both city or chlorinated water and non-chlorinated well water. To install it, you simply use a few items that you likely already have in your home, and it also makes changing the cartridges very simple and fast on your part.
For cleaner and healthier water, not to mention the many advantages that go along with this type of water, a reliable water-filtration system is a must. This system is super easy to install and is very reasonably priced, which means you won't have an excuse not to purchase it. It is built very solid and even has polished interiors to help it eliminate bacteria and debris. It is easily installed underneath your home, and it is suitable for homes of most sizes. If you're looking for a high-quality, reasonably priced water-filtration system, this one can't be beat, so it is definitely a purchase you won't regret.
6. Eddy Electronic Water De-Scaler: Water Softener Alternative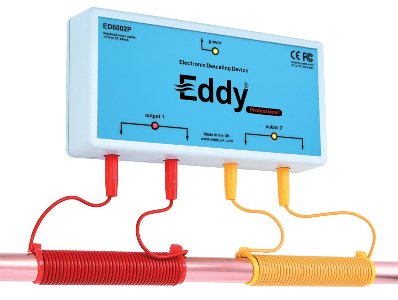 If the water in your home needs improvement but you feel that it doesn't need a full-blown water softener, the Eddy electronic water de-scaler might be for you. A little less expensive than a regular water softening system, the product de-scales your entire water system and can be installed quickly on any metal or plastic pipes. If you already have deposits in the water, this device helps to remove them and it also helps prevent future buildups from occurring. Better still, it is not necessary to add salt to the system because it works its magic without this ingredient.
A Very Effective and Inexpensive System
If you have minerals in your water that are healthy for you, the Eddy water de-scaler leaves them alone and it works to make your water feel softer without changing the water's actual hardness level. It is also an easy-to-install and low-maintenance system that makes your water much better for drinking, cooking, and washing purposes. With this system, your clothes will look cleaner and brighter, your skin will be softer and less itchy, and your appliances will run better year after year, thanks to the amazing effects that it has on the water system in your home.
Scale buildup on surfaces, pipes, fixtures, and other items can be a real inconvenience but the Eddy water de-scaler takes care of this problem easily and quickly on a continuous basis. With this system in place, you won't have to clean the shower head with vinegar on a regular basis and you'll notice no hard water rings or spots on the toilets and dishes. Keeping dishes and appliances clean will be much easier and the best part is that the system won't take up much room yet provides results that are instantaneous and very much appreciated.
Save Yourself Both Money and Time
Cleaning dishes and clothes should never be time-consuming yet those tasks can take time if your water is too hard. With the Eddy water de-scaler, you can save both time and money because it works immediately and you won't have to add salt to the system month after month. It is a very effective system just as it is so all you have to do is install it and allow it to work its magic. It also works great without using a lot of electricity and it is solidly built with no moving parts to wear out or break, which means that you can rely on it to do its job for many years to come.
7. Nuvo H20 Dphb: A Home Water Softener System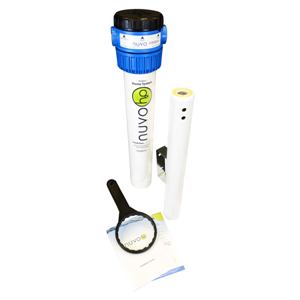 The way that the Nuvo H20 home water softener system works is nothing short of spectacular. After you install it, calcium and magnesium — which are the principal causes of hard water — are attached to a chelating agent and therefore unable to cause hard water problems because they remain soluble. Because of this process, the pH level of the water is lowered and the water therefore stays much softer week after week, month after month. It can remove the current hard water scale and prevents more scale from occurring in the future, keeping your water nice and soft on a continuous basis.
Technological Advances Help It Work Properly
The Nuvo H20 is a very efficient and reliable system that is eco-friendly because it requires no salt, no waste water, and, best of all, no electricity. Made for smaller homes with one or two people, the Nuvo H20 water softener system is NSF- and FDA-approved. Because it greatly improves the overall quality of your water, it is guaranteed to extend the life of your hot water heater, appliances such as your washing machine and dishwasher, and even your plumbing fixtures. It does a great job of continuously improving the condition of your water and makes your entire household much healthier.
Its Size Makes It Even More Convenient
Not only does this system work incredibly well but the size of the system will amaze you. At only eight pounds and 5" x 24" in size, the Nuvo H20 system is compact even though it is very powerful. It works around the clock even while you're asleep to get the job done and it has a flow rate of 15 GPM. The system comes in three different sizes to accommodate different requirements. Also, the replacement filter cartridges are very reasonably priced and therefore won't break the bank when you need them.
If you need help softening your water but don't wish to pay thousands of dollars for a water softening system, the Nuvo system is for you. Small but incredibly efficient and reasonably priced, you can install it yourself or let the experts install it for you. When you read reviews of various brands, this one always comes out on top. It helps improve the efficiency of appliances such as dishwashers and washing machines and it always performs the way that even perfectionists expect it to. In other words, this is one water softening system that you will never regret purchasing.
8. Triple Action Poly Salt Free Water Softener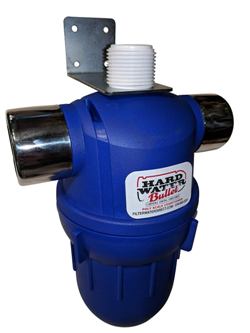 One of the biggest advantages of the Poly salt-free water softener is that it is easily installed and ready as soon as it comes out of the packaging. It is BPA-free and NSF-certified and it contains everything that you need to install it and begin using it right away. This includes the wall bracket and the bacterial filter. It is also easy to install even for people who are not tech-savvy and it weighs a mere four pounds. It doesn't use salt to soften the water; instead, it conditions and treats the water to get the results that you need and deserve.
Many Special Features Are Included
The Poly salt-free water-softening system comes with numerous important features, including:
A maximum pressure of 145 PSI
A maximum working temperature of 140 degrees
A total of 15 ounces of poly-phosphate crystals
A total of two male installation adapters and two male-threaded installation nipples
A filter size of 10" x 4.5"
Because of these and many other important features, the Poly water softener takes up a small amount of space but provides extraordinary results for all households. Even picky people will automatically notice how much better their water tastes after installing it. It is simply a very efficient and reliable system to have in your home.
You Deserve to Have Clean, Healthy Water
Everyone deserves to have clean, healthy water and if you've tried other water softeners and have been displeased with the results, that won't happen when you purchase the Poly triple-action system. Whether you live in the middle of the city or in a more urban or rural area, this water softening system will never let you down because it is made to work efficiently and quickly 365 days a year. It automatically removes the buildup on your faucets and the spots on your chrome or glass items, making it a very valuable addition to your home.
When you purchase a water softening system, you expect certain results and you'll get those results and more with the Poly water softening system. It is also not a cumbersome or unattractive system and is actually barely noticeable in your décor. Just as you were once used to having spots on your dishes and itchy dry skin, you can now become used to having soft skin and spotlessly clean dishes every time, thanks to the effectiveness and reliability of this system. When it comes to water softeners, the Poly system is simply one of the best on the market.
Water Softeners Buying Guide – How To Choose A Water Softener For Your Home

Choosing a water softener isn't always an easy choice to make. In fact, when you first learn that you need a water softener, you might not even know what it does. When you aren't entirely sure what your water softener does, it can seem almost incredibly overwhelming to try and choose the one, perfect, water softener for your house. However, when you put the time and effort into finding the most important features to look for, you won't have to worry about a thing. In fact, it will become much easier for you to pick out the water softener that suits your needs best.
To put things simply, your water softener does exactly as the name suggests. It softens the water in your house so that it doesn't cause problems with plumbing, silverware, and appliances that rely on water. Chances are that if you are looking for a water softener, then you are experiencing the problems that people with hard water get. If you want to be more specific about what your water softener does, it removes calcium and magnesium ions, which are what makes water "hard," and replaces them with sodium through an ion exchange. With a good water softener, you will also need to have a system monitor installed so that you can make sure that your water is appropriately soft and you will also know when you need to add more sodium, but this is something that you will discuss with your plumber.
What Should You Look for?
When you begin your search for a water softener, you will need to know what the most important features to look for are, so that you can begin narrowing down your options. You will need to think about what type of softener you need and whether or not you are going to have a metered or a timer-based regeneration. These are the two most important aspects that you need to consider before you can move onto the secondary considerations.
The Different Types of Water Softeners
You might be surprised to learn that there are actually several different types of water softeners out there that you can choose from. Each one is better suited to a different situation, so it is important to have a basic understanding of how each one works. There is the traditional salt-based ion exchange system, but there are also others. These include softeners that don't use sodium, known as salt-free softeners, dual-tank softeners, Point of Entry (POE) softeners, and portable units.
As mentioned above, the traditional softeners use a chemical exchange process to simply replace the harder minerals with ones that will not damage your plumbing and appliances. The main culprits are usually calcium and magnesium, but sometimes other minerals, such as iron, can cause problems as well. The replacement is almost always sodium, but in some rare cases, people will use potassium instead. Through the ion exchange, the hard minerals are replaced with ones that don't wreak havoc on your house's utility system. This is just about the most common water softener out there.
The only concerns you should have with this are that salt can add to sewer bills and that you have to account for the increased sodium (or potassium) intake from the water. Some people might be concerned about the environmental impact from the amount of sodium that still remains in the wastewater, but aside from this, it is a very common and helpful water softener.
Salt-Free Softeners
Some people would rather not have such an increase in their daily sodium intake, whether from a concern for their own health or because of physical issues with sodium. No matter the reason, there are alternatives out there. A salt-free softener, which would be more accurate to call a conditioner, doesn't remove the minerals in the water. Instead, it tries to prevent the minerals from sticking to other surfaces to make sure that any damage is stopped. They are not nearly as effective as traditional softeners, but it is noticeably better than having no softener at all. Typically, this process uses citric acid or polyphosphate instead of sodium or potassium. This is a good option to consider if you don't want to deal with maintenance, increased salt intake, and the wastewater produced by traditional water softeners.
Dual-Tank Softeners
These water softeners are rather peculiar. They operate, for the most part, under the same pretense as traditional ion-exchange water softeners. You can consider them well-suited to families that have strange or irregular schedules. In a sense, they are a niche area for water softeners, but important enough to warrant their own category. The idea behind these softeners is that while one tank of water regenerates, a second tank of water can provide the softened water when needed. Since regeneration, in traditional water softeners, happens overnight, families who have strange or atypical schedules might want to have some soft water during the night. If your family works a strange schedule, you might want to consider investing in this so that everyone can have safe, softened water. The one thing you will have to keep in mind is that they tend to take up more space, since there is a second tank to consider.
POE Water Softeners and Portable Units
POE water softeners are going to be most of your typical water softeners. This includes ion-exchange softeners, salt-free softeners, and everything that ranges in between these. This is because these water softeners are designed to support an entire household, and often work from the point of entry which is where the name comes from. From the point where the softener is installed, all the water has to do is pass through the tank before it goes to whichever room it is needed, making things much easier for you and your family. However, there is a different type of water softener out there known as a point-of-use softener, a POU, or a portable unit.
Portable units, as you might be able to imagine, are much smaller and are not designed to support an entire house. In fact, they are generally designed for campers and outdoor use, where you might not be able to install a typical water softener tank. They are often much smaller, much less expensive, and require more hands-on work. Not only is the size of the tank much smaller as well, but you often have to deal with manual regeneration. While this might be troublesome for a whole house to deal with, they are often perfectly suited to campers, RVs, and most outdoor use.
Metered or Timer-Based Water Softeners
As mentioned before, many softeners run on a regeneration schedule, which is often set for overnight when people aren't going to be using much water. However, different softeners and different households are better suited for metered or timer-based regenerations. As you might be able to imagine, timer-based regeneration runs by a time clock and it will begin regeneration at a set time, no matter how much water has been used. This allows it to constantly use the same amount of salt and water each time it regenerates, which can be helpful for some people. With that being said, that introduces the potential problem of running out of salt or water before the set time to regenerate. This can happen when something unexpected occurs, such as when the pool needs to be refilled. Likewise, if you go on vacation during the summer, there could be several sessions of regeneration gone and wasted because of the timer-based system.
If you have more money and patience to spare, you might want to opt for the metered softeners. These initiate regeneration when the water or salt levels begin to run low. Sometimes, they are referred to as demand-initiated regeneration. Not only will it save you time trying to manage your water use before a set time, but it also helps the environment, since you won't be wasting any amount of salt or water. These are the most commonly used softeners, although they are a little bit more expensive to deal with. If you want to prevent potentially wasted water and salt, then you should definitely opt for a metered water softener when you are searching for what suits your house best.
Considering Your Budget
Before you delve into researching the perfect water softener for your household, you might want to think about your budget first and what you can afford to spare. Water softeners vary greatly when it comes to prices. The less expensive ones tend to run for only a few hundred dollars, while the high-quality ones can run for several thousand dollars. Adding installation to the price can either add only a couple hundred dollars or potentially half a grand. On top of all of this, you will need to consider the operating cost of the softeners themselves. There's the sodium (or whatever you are using to soften the water), the water itself, sewer bills, and the typical maintenance and servicing to factor in.
Final Thoughts…
It is always best to think about your budget before you get fixated on one particular system. Knowing what your budget is will allow you to keep looking at the best water softeners 2020 that are a possibility for your house, without getting your hopes set on something you cannot afford no matter how much you want it. In some ways, knowing what your budget is can be the first step to choosing your brand-new water softener system.