If you have a HVAC system installed in your home, then you need to be able to control everything from one point or device. A smart thermostat will enable you to do that in a very convenient way. This guide on the best smart thermostats 2020 will help you choose a suitable smart thermostat for your climate control needs at home.
You can cut down your energy costs significantly by investing in a smart thermostat that turns your HVAC system on when you anticipate being home and off when you don't need any climate control in your home.
Additionally, it will enable you to create customized and sophisticated heating and cooling schedules on a daily basis and give you full control over your HVAC system even when you're not at home. But for this to happen, you need to choose a model that's more suited to your needs.
So if you don't know the most important features to look for in a smart thermostat, then please check out our detailed buying guide on choosing a suitable smart thermostat for your home. The buying guide is just below the reviews on this guide.
That said, let's now find out what the best smart thermostats for 2020 are, shall we?
Best Smart Thermostats 2020
1. Nest T3007ES Learning Thermostat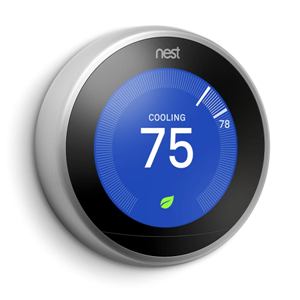 When you think about all of the things that help you save money on your utility bills, don't forget to consider what type of thermostat you have. Thermostats come in various sizes and designs. The Nest T3007ES learning thermostat eventually learns which settings you like most and will automatically set itself to keep you comfortable all day long. Available in blue and various shades of black, this thermostat even works with Alexa and similar devices. It has a very attractive display with large, easy-to-read numbers on it.
A More Advanced Thermostat
The Nest thermostat can also be hooked up to your phone or tablet, allowing you to keep an eye on it and adjust it even if you aren't at home. In fact, this thermostat is so advanced that it will even turn itself down automatically when you're not at home, which means that it will never heat or cool an empty home. It also has a sensor that allows it to "see" you when you get close to it, causing it to light up brightly in anticipation of an adjustment from you. You can even check its history in a special app, allowing you to see how the thermostat has been used so far so that you can decide if you need to adjust it somewhat.
A High-Quality, Sturdy Device
Made out of stainless steel, the Nest thermostat is both beautiful and functional. Whether it's bitter cold outside or steamy and hot, it can adjust accordingly and keep you comfortable day in and day out. It is also a very simple device to install, in part because the instruction manual that comes with it provides very easy step-by-step directions that are super easy to understand. This is a high-quality, technologically advanced thermostat that is efficient and looks great in your hallway. It does a great job of automatically lowering your utility bills.
Choosing the right thermostat is easier than you think; if you want one that can almost operate on its own without any help from a human, this is a thermostat to consider. Control the temperature of the thermostat with your computer or smart phone and rely on it operating efficiently 24 hours a day even when you're not around. Its many modern features make it convenient and even fun to use. It also makes keeping your home comfortable and efficient a very easy thing to do.
2. Emerson Sensi Wi-Fi Smart Thermostat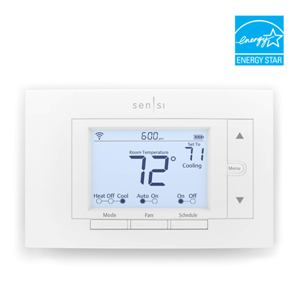 The Emerson Sensi Wi-Fi smart thermostat offers a lot of different features including a large display that clearly shows the temperature and the current time for your convenience. This is a technologically advanced thermostat that you can use with your tablet or smartphone. It even works with Alexa and similar devices. You can install the device in less than an hour and it is compatible with most HVAC systems in most homes. Its bright display makes it easy to determine which mode it is on and which features you're using. It is even simple to change or adjust so that it does what you want it to do.
Making Your Life a Little Easier
Imagine changing the temperature of your home while you're at work and you'll easily understand the appeal of owning one of these thermostats. You can use both Android and iOS devices to install the correct app. The device even helps detect extreme humidity and temperature levels in your home. It is lightweight, operates on battery power, and comes with a three-year warranty for great peace of mind. If you need a more efficient, energy-saving thermostat and you're a do-it-yourself enthusiast, this is the thermostat for you.
If you live in an area that gets a lot of hot weather, the Emerson Sensi smart thermostat is great because you can raise the AC temperature when you're not home and lower it remotely before you head home again, ensuring that your home will be nice and comfortable once you get there. Using the app, you can even set the thermostat to go up or down at certain times of the day, increasing the odds that you'll save even more money on your utility bills. It is fast to set up and looks great in your hallway so you get a fully functional and very attractive device that completely modernizes your home.
Making it Even More Enticing to Buy
The Emerson Sensi smart thermostat is not only an efficient and super-advanced device but it is also reasonably priced and often comes with rebates, making it even cheaper to buy. The app gives you a lot of the information that you need after it's installed so it is extremely user-friendly and simple to use. Nowadays, a lot of people are trading in their older thermostats for ones that are more advanced and sturdier. For these and many other reasons, the Emerson Sensi is a smart device to buy.
3. ecobee4 Smart Thermostat with Built-in Alexa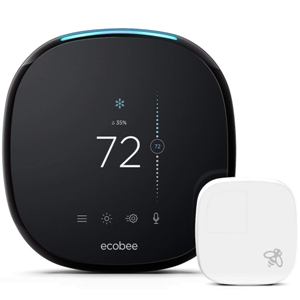 If you're interested in getting a modern thermostat that will pay for itself in the first two years, the ecobee4 smart thermostat is the one for you. It is not only capable of being installed in under an hour, but it is so efficient that it can automatically detect the temperature and occupancy of the room to adjust to the perfect temperature every time. You can even adjust it when you're away from home to save even more money on your utility bills.
The Magic of Alexa
The ecobee4 smart thermostat also comes with Alexa capability so that you can operate it with only your voice, and it is compatible with all types of HVAC systems, including gas, electricity, oil, and many others. With the Alexa feature, you can ask it to change the temperature any time you like, and it is the perfect size for your hallway wall. The large display allows for easy reading, and it is perfect for everything from small apartments and condos to large homes and offices. This is one device you won't regret purchasing because it makes reading the thermostat and adjusting it a whole lot easier on your part.
With the ecobee4 smart thermostat, you can even download an app and control the temperature of your home from your smartphone or tablet, even if you're currently away from home. Through Alexa, you can use this thermostat for checking the news, turning your lights on and off, and playing music, to name a few. It is a convenient device that not only looks great, but also has dozens of features that you'll soon learn you can't live without. Its software even allows you to look at usage reports on a regular basis so that you can determine how much electricity you're using when operating the thermostat.
An Eye-Catching and Practical Design
The thermostat also comes in a nice design that will match anyone's décor, and the device even automatically adjusts the temperature as you go from room to room in your home. With modern features and an attractive look, the thermostat is the perfect way to complement anyone's home. It is easy to read and easy to use, even if you're not technologically savvy. You can use the app on both iPhones and Android phones, and it comes with sensors you can place around your home for even more accurate readings and service. A perfect addition to anyone's home or office, this thermostat is one you are certain to love.
4. Nest T3008US Learning 3rd Generation Thermostat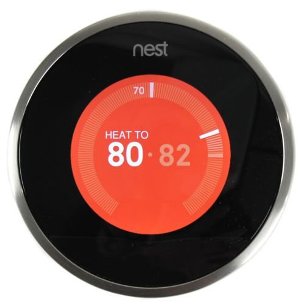 The Nest T3008US 3rd generation thermostat is an amazing device because it actually keeps track of your preferences and remembers how you programmed it, allowing it to keep you comfortable day in and day out. It is super easy to install and has a brightly colored display with large numbers that are easy to read regardless of the time of day. Compatible with Alexa and similar systems, the device can sense if you're coming near it and automatically lights up, allowing you to see not only the current temperature, but the time as well.
Learn its Many Benefits
The thermostat has the capability to lock itself so that children can't reset the temperature and get it too high or too low. You can download the app to your Android or iOS phone and adjust the temperature at any time, even if you're not at home. The thermostat is so advanced that it knows when you're home and when you're not, and it automatically adjusts itself so that you can remain comfortable 24 hours a day. Because of these things, the Nest T3008US learning thermostat can save you a lot of money on your utility bills, starting immediately after you install it.
If you want a thermostat that seems to know what you're doing even before you do, this is the perfect thermostat to purchase. It is easy to install and very user-friendly, and it does an extraordinary job of learning your habits so that it can adjust itself accordingly. It is also extremely convenient because you don't even have to get out of your chair or off of the sofa to adjust the temperature in your home. It is perfect for both homes and businesses, and it is especially convenient when the thermostat is on one level of the home and your bedrooms are on another.
A Great Complement to Your Home
The Nest T3008US 3rd generation learning thermostat is the perfect complement to anyone's home or office, thanks to its modern capabilities and features you'll soon learn you can't live without. Whether you operate the system with your smartphone, tablet, computer, or even your voice, you'll find it a very simple and fast device that works reliably for a very long time. If you're tired of an older system that seems to be wasting money and is difficult to operate, this is a great thermostat to buy because it will greatly simplify your life. It is a great system that adds a lot of convenience to your daily life.
5. Emerson Sensi Touch Wi-Fi Smart Thermostat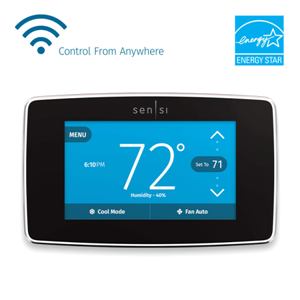 If you'd like the capability to adjust the temperature of your home even if you're not there, the Emerson Sensi Touch Wi-Fi smart thermostat is for you. The thermostat has the ability to work with Alexa and similar systems, and it has a large-screen display that is colorful and very easy to read, regardless of what time it is. It is a sleek rectangle shape and displays the time as well as the temperature, and it even works by touch so that adjusting the settings is both fast and easy.
Saving Time and Money
Because you can adjust the temperature regardless of where you are, you can set the number to allow you to save electricity, which means lower utility bills from then on. You can even download an app and adjust the settings through your smartphone, tablet, or computer to save you both time and energy. Installed in roughly 30 minutes, the device is both easy to install and easy to use, even if you're not the most tech-savvy person on the planet. At roughly nine inches in length, it is also the perfect size for anyone's hallway, and it also looks attractive wherever you decide to install it.
A Few Extra Perks
With the Emerson Sensi Touch Wi-Fi smart thermostat, you can get a program that shows you your usage for the past 12 hours, and the touchscreen makes adjusting the temperature very simple on your part. It is also a very modern-looking device that can add a little touch of ambiance to any room you put it in. It is easy to program and allows you to use it for features that include playing music, reading emails, and a lot more. With technological advances such as these, not to mention a sleek and attractive look, there is little wonder why people are falling in love with this thermostat.
Of course, its looks aren't the only reason you'll become addicted to this thermostat, because its bright, easy-to-read screen means you can view it any time and get an exact reading, even if you're far away. Being able to change the temperature of your home or office even when you're not there is a big advantage, especially if you want your house to be comfortable as soon as you get there. Another asset is being able to use voice commands to get it to do what you need it to do, but there are many advantages to purchasing one of the best smart thermostats on the market.
6. ecobee3 Lite Smart Thermostat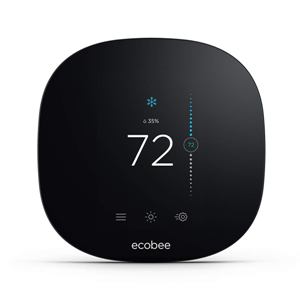 One of the most interesting things about the ecobee3 Lite smart thermostat is that you can place sensors in various rooms in your home so that they work with the thermostat, making it a lot more efficient in the end. This is one of those smart devices that you can use with your smartphone, computer, tablet, or even your Alexa or a similar device. This means you can adjust the temperature in your home even if you're not there, and the fact that it saves you money on your utility bill from the very first day is just icing on the cake.
The Ease of the System Will Amaze You
Easy to install and even easier to use, the ecobee3 Lite smart thermostat is a true miracle worker when you're looking for something that you can use to change the temperature in your home even if you're away from the house, and even if you've purchased it simply to save money on your electric bills. It is a great device with a sleek, modern-looking design that you'll hardly notice, but which you'll appreciate being there because of its efficiency and cost effectiveness. Use it with both iPhones and Android phones, as well as systems such as Alexa, Cortana, Wink, and many others.
A Great-Looking System
At roughly four inches long, the ecobee3 Lite is the perfect size for your wall and looks great regardless of where you put it, and the easy-to-read display is both attractive and convenient. If you are looking for a digital and more modern option to a standard thermostat, this is definitely one to consider. It is convenient knowing you can adjust the temperature in your home even if you aren't there, and it can save you tons of money in the long run. It also works with most HVAC systems and, therefore, you can look forward to enjoying it for many years to come.
The device operates both through your HVAC system and has a battery backup, and the easy-to-understand instructions mean you can have it installed in less than an hour. Installing the perfect digital thermostat is easier than you think, and it even has options for running auxiliary systems such as humidifiers, making it a very convenient and useful thermostat to own. The thermostat also saves you both time and money, and it gives you a way to enjoy the benefits of a simple digital solution to all of your HVAC needs. It is definitely an item you will never regret purchasing.
7. Honeywell TH9320WF5003 Wi-Fi 9000 Color Thermostat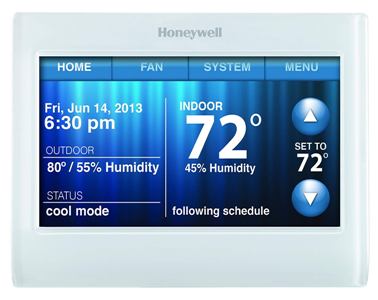 With a white frame and a beautiful blue display screen, the Honeywell TH9320WF5003 thermostat is both eye catching and functional. Its touchscreen capabilities mean it is super simple to use, and the screen includes details on the temperature, date, time, and relative humidity, among other things. You can download the app on your phone or tablet and adjust the temperature of your home even when you're at work, which means you can save money on your utility bills as soon as the device is installed. It also has a great warranty because it is made by one of the best high-tech companies available.
Don't Worry If You Aren't Tech Savvy
This thermostat is not only efficient and easy to operate, but it is also one that is easy to use even for those who aren't tech savvy. The instruction manual provides step-by-step instructions that nearly anyone can utilize to get the thermostat installed properly, and you can either install it yourself or get a professional to install it for you. Either way, installation usually takes less than an hour and once it's finished, the thermostat starts immediately to make your home comfortable and save you money on electric bills at the same time.
This Honeywell thermostat is so simple to use that it is actually fun to adjust or program the device, and if you connect it to Wi-Fi you can display the outdoor temperature as well as the other information. If you're away for a long time, such as on vacation, you can keep the temperature in your home steady and a little lower to save yourself some money, and you can easily adjust the temperature and make the house more comfortable right before you head out for home. Indeed, this thermostat actually communicates with its owners and provides you with a way to keep your home more comfortable all year long.
A Few More Advantages
Looking for a more modern digital thermostat is now easier than ever before, and if you're not exactly the most technologically advanced person on the planet, that's all right because the Honeywell smart thermostat will still accommodate you perfectly. In fact, in no time you'll be enjoying a more comfortable home and the many benefits of a lower electric bill, and it comes with a great price and a great warranty as well. There is no need to put up with an old, unreliable thermostat that works some days and not others, thanks to the high-quality Honeywell Wi-Fi programmable thermostat.
8. Honeywell RTH9580WF Smart Wi-Fi Thermostat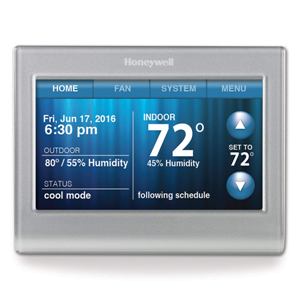 The Honeywell RTH9580WF smart thermostat comes with a bright, attractive screen that you can set to various colors so that it always matches your home décor. It works with Alexa and other systems for those times when you feel like adjusting the temperature with a voice command, and it can also be used with both iOS and Android smartphones that allow you to make adjustments through the phone. You simply download the app and use the smartphone, tablet, or computer to adjust your HVAC settings, making it simple and fast to start adjusting the temperature of your home at any time.
A Top-Notch Design and Other Perks
One of the biggest advantages to this thermostat is its ability to be locked and operated only with a password, which is perfect for those times when you don't want children or teens changing the setting on your heater or air conditioner. It is a very attractive and easy-to-use device that even those who are "technologically challenged" can operate with little effort. In addition, the company that makes the device offers rebates for certain customers, which means it is both a top-notch device and an inexpensive one. It, therefore, makes a lot of sense to give this device a try.
Count on It Lasting a While
Well built and made to last, the Honeywell smart thermostat looks great on your wall and continuously displays the temperature, date, time, and humidity for your convenience. If you're interested in replacing your old, standard thermostat with one that is more advanced and modern looking, this is a great thermostat to choose. Its sleek design makes it a true eye catcher, and it saves on your utility bills from the moment it's installed. It is simply a very useful and fun device to have in your home because it makes adjusting the temperature a lot easier and quicker to do.
Best of all, this Honeywell thermostat is compatible with most HVAC systems, including many heat pumps, and you can visit the company's website to determine for sure if your system is compatible with the device. You can easily install the unit thanks to its easy-to-understand instruction manual, and it can switch from heat to cool quickly when you need it to. The simplicity of the touchscreen is something all users absolutely love, and it makes adjusting the temperature in your home or office fun to do. It is both fully functional and aesthetically pleasing, making this one purchase you will never regret.
Smart Thermostats Buying Guide – How To Choose A Smart Thermostat

Everyone loves being able to keep his or her house at a comfortable temperature. Whether it is the dead of winter and you want to make sure that you are not too cold to sleep or it is the middle of summer and you would like some respite from the sweltering temperatures, you can rest assured knowing that you can be comfortable in your own home. That is, you will be comfortable as long as you have a working thermostat to change the temperature with. No matter if you have just moved in and you need to install a thermostat in your home or you have decided that it is time for a brand-new thermostat, having a good thermostat is key to staying comfortable year-round.
When it comes to thermostat shopping, you have two main choices. Of course, you could get the traditional thermostat that only shows the temperature of the house and has a dial that you can turn. Or you could take advantage of the technological advancements that have been made in recent years. Getting a smart thermostat is a wonderful way to ensure that your house remains a suitable temperature while also keeping track of several other aspects. The only question that remains is how you go about purchasing the best smart thermostat for your needs.
What Should You Be Looking for?
There are a few different things that you need to pay attention to when you begin searching for a smart thermostat. As with purchasing anything new for your house, you should make sure that you remain within your budget. Smart thermostats can vary wildly in prices ranging from just over one hundred dollars to several hundred. You should also think about what features are most important to you, especially if it comes down to having a tight budget.
Many smart thermostats specialize in different areas. There are some thermostats that are simply an upgrade to your traditional thermostat, coming with a touchscreen and a few extra features such as displaying the temperature outside the house. Other thermostats are designed to let you control the thermostat from your phone when you are far away from home. Others might even connect to a motion sensor and switch off when you have been away from home for a long time, saving you money when you go on vacation. These are all features that you will want to think about when you begin your search for the perfect smart thermostat.
Something to Note
Before you dive too deep into the realm of smart thermostats, there are a few things that you need to consider as well. For one, some HVAC systems (particularly older ones) might not connect well with smart thermostats. Whether or not a smart thermostat can properly connect depends entirely on your HVAC system or your separate air conditioning units and heating systems. In some cases, you might need to have multiple thermostats installed, one for each system or potentially one for each zone of heating and cooling depending on the size of your property. There is also the off-chance that your HVAC systems might not support some smart thermostats at all, making it all the more important for you to check and rule out any incompatible brands before you get too attached to them.
Additionally, you will need to contact an electrician who will be more than happy to connect your smart thermostat. Because these thermostats are far more complex than your traditional dials, you will need to rewire a few things in the house before your smart thermostat will be up and running. If money is tight, you will need to factor this into the overall budget of the thermostat itself. Now that you are aware of these things, you can begin searching for a smart thermostat that suits your needs.
Automated Temperature Changes
As technology has advanced in recent years, smart thermostats have become surprisingly capable of saving you a considerable amount of money on your energy bills. Through geo-fencing and motion sensors, some smart thermostats can "learn" what your schedule is and when you are away from home. This means that it can personalize settings so that when you are away at work, the house is not wasting energy while you are gone. This also means that you won't have to get up every so often to adjust the thermostat when night falls. Instead, the program that the thermostat is using will learn what your preferences are and set them for you. This type of convenience can make life noticeably easier for everyone and it also has the potential to save you quite a bit of money on your energy bills. After all, when you aren't using energy to keep your home heated while you aren't there, your bills will be lower.
The potential problems with this come from geo-fencing. This means that your thermostat connects to your phone to get the location of where you are. From here, you can usually set a range that you want. When you exceed that range, the thermostat will switch to an "away" mode, which will help you save energy. However, some people might not be comfortable with location tracking and it also might not be the best feature for people who regularly forget their phones. However, its potential benefits are absolutely something that you should be keeping in mind.
Automated temperature changes don't always have to connect to your phone, though. Some thermostats work through the use of motion sensors and proximity sensors. When these sensors detect where you are, the thermostat will kick in, bringing your home to a more comfortable temperature. It also means that if they do not pick up any motion from you for an extended period of time, the thermostat will switch to an "away" mode, keeping your energy bills low throughout the year. Understandably, this might not be the best option for people who have pets or don't move around much in their homes, though.
Voice and App Connections
It goes without saying that a smart thermostat is probably going to connect to your WiFi, your phone, or both. In fact, many smart thermostats have a corresponding app that you can download, allowing you to control the thermostat from the comfort of your own phone. Depending on the thermostat you choose to invest in, you might have to download the app if you want your smart thermostat to be fully integrated into your home.
With that being said, these apps allow you to set a number of preferences and settings for the thermostat to remember as you use it. This will also help with the "home" and "away" functions, which is important if you are concerned about the thermostat switching to "away" while you are still home. Some of the features are relatively basic, such as simply asking what type of HVAC systems you have, what kind of fuel they run on, and other details about the system so that the thermostat can work its best to save you money on your energy bills.
Other settings that it might ask you about are more focused on keeping you comfortable and trying to learn what your schedule is. Some of these questions can include what your preferred temperature range is, what kind of alerts you would want to receive on your phone, and so on. These are for the sake of convenience so you don't have to stress too much about these kinds of questions.
Once the app is all set up, you will be able to control your thermostat from the palm of your hand. Whether you want to be able to change the temperature without even leaving your chair or if you want to set up a vacation mode for the thermostat while you are away, you can rest assured knowing that the app will be able to handle numerous requests such as these. The only problem that this could pose is that people who have older phones or uncommon models might not be able to download the apps needed. Additionally, if you have a habit of forgetting your phone, you might find yourself not too pleased when you go on vacation and can't set the thermostat to its proper settings.
Similarly, many of these apps also connect to voice settings as well. From Google's assistant to Apple's Siri and Amazon's Alexa, you can change the temperature of the house with your voice, assuming that your smart thermostat is capable of connecting to these. Chances are that if it is a newer model, you will easily be able to connect. This is simply another feature for the ease of life that many people wish to achieve through the use of a smart thermostat.
Changeover Switches
This feature is far more useful for people who live in areas where the temperature difference between night and day is vast. When the day is swelteringly hot and the nights are frigid, you might want to look into a changeover switch. Smart thermostats with these can easily switch between heating and cooling your house all from the press of a single button. Not only does this make it easier for you to keep yourself comfortable in your own home but it also means that you can save a fair bit of money by having it done automatically when the temperature reaches a certain level. Not every homeowner can benefit from this but the ones that can will not regret investing in a smart thermostat with this feature.
Maintenance Reminders
And finally, some smart thermostats help you with other aspects of life as well. For instance, if you never remember to change your filters in your heater or AC unit, you might be in for increased energy bills at the end of the month and nobody really wants to think about those. However, there are some smart thermostats out there that will make your life so much easier in this aspect. These thermostats will remind you when you should change your filters for either your heater or your AC unit. More often than not, these reminders will happen when a certain amount of time has passed, usually based on when you should be regularly changing out your filters. Not only will this save you some money in the long run but many people can appreciate having these kinds of simple yet intuitive reminders in a place that is easy to see.
Clear Screens
This is something that you might not really think about at first but once you have experienced it, you will never want to go back. Many smart thermostats out there have very clear, user-friendly screen prompts and controls. This means that you will easily be able to navigate the menus to whatever settings you want to look at. Typically, these displays are also backlit, which means that regardless of the time of night that it is or how bleary your eyes are from waking up, you will be able to clearly read what the thermostat screen says. This is also good for people who might not have the best eyesight as a large, clear screen can be much easier to read than a small and dim one.
As for the type of information these screens tend to have, you can usually expect to see the temperature inside the house, the time of day, and some specifics on what the thermostat is doing. This can include whether or not the heat or AC is on, what mode the thermostat is in, and so on. Some thermostat displays will also have other features such as the time of day, what the weather outside is, and the WiFi signal strength inside your house. Having all of this information handy at a glance is something that many homeowners can appreciate, especially with the ease of navigating the screen.
Choosing the Thermostat That Is Best for You
In the end, choosing the thermostat that suits your house best depends entirely on what your priorities are. If you simply want something that is a step above your typical dial thermostat, then you probably don't want to spend the extra money on a high-end model that can control different zones of your house and set separate temperatures. On the other hand, if you want to be able to control the temperature of your house no matter where you are in the country and you do not mind geo-fencing or location tracking, then one of the high-end smart thermostats might be the best way for you to save money on energy bills over the years. Picking out the best thermostat for your needs comes down to a matter of preference.
Final Thoughts…
First, you should prioritize the features that you are willing to pay the most for. Once you have that down, you should begin looking at the budget, ruling out the thermostats that go too far over it or are not worth the money for what they are. After you have narrowed down the list this far, you can begin looking at secondary features and factoring in the installation cost as well. This should narrow the list down enough for you to make the purchase of the best smart thermostats 2020 for your house.