If you live in an area that experiences high humidity for the most part of the year, then a dehumidifier is a must have if you want to stay comfortable and get rid of problems caused by humid air. With this in mind, we've created this guide on the best small dehumidifiers 2020.
There are very good reasons why you need to invest in a good dehumidifier especially if your house is very humid most of the time. Apart from moist air being very uncomfortable, it is also a breeding ground for mold, mildew and bacteria which can all make you very sick if inhaled or ingested accidentally.
That said, there are also important factors to consider when choosing your dehumidifier. The size of the room you want to dehumidify will dictate the size of dehumidifier you need to get. This is important if you want to get optimum performance from your dehumidifier.
Other important features to look for in a dehumidifier are listed and described in our detailed buying guide just below the reviews. So check it out if you want to get a suitable dehumidifier that will meet your needs.
But first, here are the 8 best small dehumidifiers for 2020 that you need to get.
Best Small Dehumidifiers 2020
1. Vremi 4,500 Sq. Ft. Dehumidifier Energy Star Rated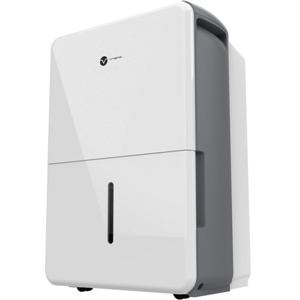 Made for large spaces such as basements and bigger rooms, the Vremi 4,500-square-foot dehumidifier is quiet, but works hard around the clock to remove moisture so that no mold or mildew has a chance to develop. If your space is between 3,000 and 4,500 square feet, this dehumidifier can remove 50 pints of moisture per day, making it the perfect addition to any room or basement area. It is sleekly designed and doesn't take up much room, but don't be fooled by its silence or its size. This is one dehumidifier you won't regret buying, because it does its job day in and day out, every day of the year, enabling you to concentrate on other things.
An Easy Unit to Use
When the tank is full of water, the Vremi dehumidifier automatically shuts off for convenience, and if you want it to drain continuously, all you have to do is connect a drain hose to it. The unit also does a great job of removing odor, moisture, and even bacteria from the air, making it healthier and less likely to make people sick. Easy to use and quick to set up, this dehumidifier is one product you'll be able to use for all four seasons, and it provides a lot of value for the money. It is also lightweight enough to move from room to room with ease.
The company also makes a smaller unit that is suitable for areas up to 1,500 square feet, and both units work quickly, but efficiently, to get the job done. It has amazing power for its size, and because of how quiet it is, you'll hardly notice that it's working. Its built-in wheels make it easy to move it from one location to another, and its 1.6-gallon water capacity means you won't be emptying the water chamber very often. Just set it up, turn it on, and forget about it. It's simple, but very effective, and it is designed to last for a very long time.
Just the Dehumidifier You Need
When you need a dehumidifier for your basement or other rooms in your home, the Vremi 4,500-square-foot dehumidifier is the perfect choice. Very efficient, but quiet and hardly noticeable, this is one purchase you will never regret. It even works better than many of its higher-priced counterparts, so whether you want to remove the humidity and moisture from your basement or reduce the amount of condensation on your window panes, this is the dehumidifier for you.
2. Frigidaire FFAD7033R1 70 Pint Dehumidifier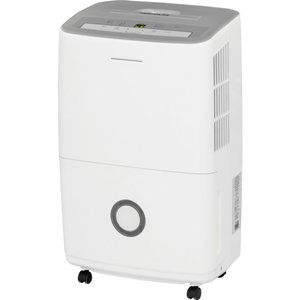 This white dehumidifier made by Frigidaire removes up to 70 pints of moisture per day from the room, allowing you to prevent mold and mildew from forming and ruining your home. If the unit is placed near a suitable drain, you can operate it continuously, and it saves both time and money thanks to its low-temperature operation. Included with the dehumidifier are assets such as 13-pint pullout tank with handle, automatic shutoff to keep the unit safely operating, and a splash guard that prevents water from getting where it doesn't belong.
Very User-Friendly
The Frigidaire dehumidifier even has a digital humidity readout, as well as a control lock and a 24-hour on/off timer. It does a great job of getting rid of the moisture in the air, and it takes up very little room. It is also easy to move from one space to another, thanks to its convenient design and the fact that it isn't very heavy. The unit is also extremely easy to set up and even easier to utilize, and its built-in handle makes it super easy to maneuver. If you're looking for a dehumidifier that is simple to use and won't take up much of your time or energy, this is it.
Meeting Your Needs
When you purchase a dehumidifier, you want it to work properly and not be too time consuming to handle. The Frigidaire FFAD7033R1 70-pint dehumidifier will work continuously when used with a hose, and it is quiet enough that you'll likely wonder if it's even working, but not to worry. This is a very efficient and reliable dehumidifier, and it is good not only for basements, but for any room in your home or office. If you're concerned about the amount of humidity and moisture in your home's air, a good dehumidifier will take away those worries and allow you to concentrate on other things for a while.
Not only is this dehumidifier dependable and extremely efficient, it also has a very attractive look that complements any room it's in. It also works very fast, allowing the humidity level to drop drastically in less than a day or two. Above all else, it is possible to save money on your utility bills by using this dehumidifier, because it keeps your entire home or office much cooler when used on a daily basis. This is but one of the many advantages to choosing the Frigidaire FFAD7033R1 dehumidifier. A great dehumidifier for a very reasonable price.
3. Keystone KSTAD70B 70 Pint Dehumidifier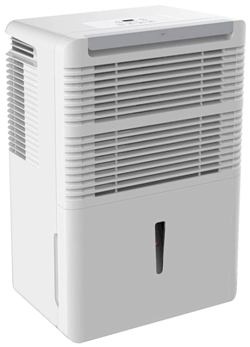 Designed for spaces up to 4,500 square feet, the Keystone KSTAD70B dehumidifier removes up to 70 pints of moisture per day, allowing the room to be much more comfortable and eliminating the chances of getting mold and mildew in your home. Let's face it, mold and mildew can ruin your home and cost you a lot of money over time, but a good dehumidifier means you won't have to suffer this fate because the mold and mildew will be gone. This dehumidifier also comes with a 24-hour timer and LED display for convenience, making it simple and even fun to operate.
A Lot of Valuable Features
If you're looking for a dehumidifier that you can set up in minutes and looks great in whatever room it is in, the Keystone dehumidifier is it. During a power outage, the auto restart feature saves your settings, and its electronic controls include settings such as Normal, Turbo, and Auto Defrost. In a matter of days, the unit will bring down your humidity level quite a bit, and in addition to getting rid of mold and mildew, it will also keep condensation from forming on your windows while the AC is running.
The Keystone dehumidifier gets rid of musty smells in the basement and also keeps the room a little warmer, which means you can adjust the setting on your air conditioner and save yourself some money on your utility bill. It also works great in finished, semi-finished, and even unfinished basements, giving you the opportunity to enjoy your basement once again. In any room, this dehumidifier allows the room to be much more comfortable and eliminates the mold from forming on any of the items there, providing you with great peace of mind every time.
How Can They Help You Today?
When you purchase a dehumidifier, you want it to start working right away, and this is exactly what the Keystone KSTAD70B dehumidifier does every time. You can have it operating within minutes of receiving the package, and the fact that it shuts off automatically when the bucket is filled with water means you have one less item to worry about once you set up your dehumidifier. If you need a low-maintenance, easy-to-operate dehumidifier for a medium to large area such as a basement, this one is perfect for you. The digital display even allows you to continuously monitor the humidity level in the room, ensuring that the number will be nice and low day in and day out.
4. Ivation 70 Pint Energy Star Dehumidifier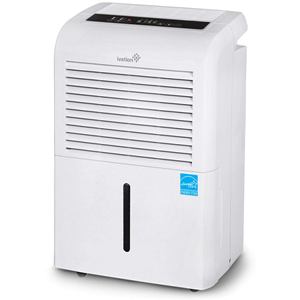 The Ivation Energy Star dehumidifier can easily remove up to 70 pints of water per day so that excess humidity doesn't cause mold and mildew to form. It is extremely powerful and even gets rid of dust, odors, and allergens so that the air in the room is much healthier for the entire household. Its bright LED display makes it super easy to read the numbers so that you can tell what the humidity level is at all times, and the settings include a filter alert, timer, and the fan speed, to name a few.
The Many Advantages of the Right Dehumidifier
With features such as auto defrost and auto restart, the Ivation dehumidifier has been certified as eco-friendly, and it is lightweight, attractive, and very user-friendly. Within minutes of taking it out of the box, you can have it plugged in and running properly, and you'll notice the humidity level plummeting in a very short period of time. This dehumidifier removes water so quickly that most people end up using the hose feature so that it runs for a longer period of time, because it is indeed a very efficient dehumidifier to have in your home.
Not only is the Ivation dehumidifier great for homes, but you can use them in commercial entities as well because it can handle spaces of up to 4,500 square feet in size. Because it works quickly to produce the results you need and deserve, you won't have to wait long to stop worrying about the mold and mildew in your home or office. In fact, even in areas that have extra-high humidity levels, this dehumidifier will produce great results, saving you not only money, but a lot of time as well. Dehumidifiers that both clean the air and prevent mold and mildew from forming are priceless, and this is one unit you can count on to work right for many years to come.
You Deserve to Get What You Want
When you're looking for a dehumidifier, you don't have to spend a lot of money just to get a good one, as the Ivation dehumidifier proves. A sleek, attractive unit that works quickly, but efficiently, on a daily basis, you can forget about your basement or any other room in your home being inundated with mold and mildew if you purchase this dehumidifier. It is also quiet and nondisruptive, which means you can put it almost anywhere in your home or office and enjoy its many benefits without even realizing it is there.
5. hOmeLabs 50 Pint 3,000 Square Foot Energy Star Dehumidifier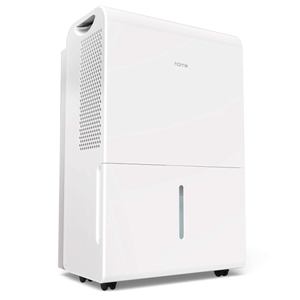 hOmeLabs' Energy Star dehumidifier is great for removing up to 50 pints of water per day from areas of up to 3,000 square feet, and the unit is also great for removing bacteria and allergens that can make the air you breathe unhealthy or not smell right. These dehumidifiers are great for a variety of reasons, not the least of which is that they prevent mold and mildew from forming and ruining the furniture and other items in your basement or any other room in your home or office.
Great for All Types of Rooms
Eco-friendly and able to handle even large areas, the hOmeLabs 50-pint dehumidifier is great for basements, cellars, or any other large room in your home, and its sleek look won't disrupt the current décor of the room it is in. It comes with a quiet fan and wheels at the bottom that make it easy and fast to move from one area to another, and its quietness means you can enjoy your favorite music or television show without being drowned out by a clunky, cumbersome dehumidifier. It also comes with various settings that include a High Air CFM 188 for the ultimate in noise and odor reduction.
With the perfect size and weight, this dehumidifier has a 1.6-gallon capacity in its water tank, which means you'll see a lot of water inside the tank before you have to empty it. If the power goes out, the machine automatically resets itself, and if you decide to use it in your bathroom or kitchen, it will work great there as well. Regardless of the level of humidity you deal with where you live, this dehumidifier will not let you down, and it is built to last for many years to come.
Decide Which Features Are Important
Finding the right dehumidifier isn't at all difficult, and once you decide for yourself which features are important to you, you'll automatically notice that this dehumidifier has all of these important features. The water tank can be removed easily and the handle allows you to move the unit from one area to another with ease. With this dehumidifier, you can get used to a basement or other room with no dampness or unpleasant smells, allowing you to once again enjoy being there. Even if you have a lot of moisture you need removed, this unit will not let you down, and it comes with an extra-long warranty that guarantees it will work for a very long time.
6. Ivation 50-Pint Energy Star Dehumidifier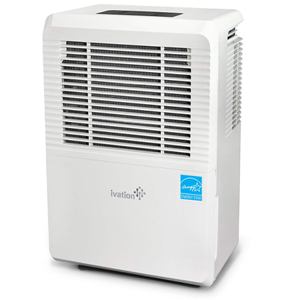 The Ivation 50-pint dehumidifier comes with a lot of features that you likely won't expect, including a humidistat that is programmable, automatic shutoff and restart capability, hose connector, washable air filter, and casters. In other words, this dehumidifier is completely ready to go as soon as you take it out of the package and it sets up within minutes. A very powerful unit, the Ivation dehumidifier improves the quality of your air because it not only gets rid of excess moisture but also eliminates allergens, odors, and dust so that you can breathe better and get sick a lot less often. Indeed, it is a very versatile appliance to have around the home.
Ease of Operation Is a Big Benefit
This is also a very low-maintenance appliance because all you have to do is take it out of the box and plug it in. Its 1.3-gallon reservoir means that you won't have to empty the water out very often and it removes up to 50 pints of water per day from the air in the room. It both improves air quality and eliminates the possibility of mold and mildew forming so it is a versatile and very valuable appliance. It also has bright LED settings that are easy to adjust and easy to see as well as an adjustable fan, timer, and filter alert.
When it comes to removing moisture from the air, a good dehumidifier can be a true miracle worker. The Ivation 50-pint dehumidifier is certified eco-friendly and has automatic defrost and automatic restart features, making it a very convenient appliance to have in your home. There are also 30-pint and 70-pint varieties but the 50-pint dehumidifier covers up to 3000 square feet of space and can therefore accommodate most homes and basements.
Make Mold and Mildew Removal a Lot Easier
One of the biggest advantages to using this dehumidifier is that it is made for any room where you experience too much humidity, including not only the basement but also upstairs rooms and even bathrooms. The unit is lightweight and therefore easy to move from one area to another as well as very quiet and efficient. It provides a lot of power for the money and it turns on periodically to remove more moisture whenever the humidity level reaches above a certain number. A sleek and attractive dehumidifier, the Ivation dehumidifier will never let you down because it provides top-notch service for many years to come.
7. Frigidaire FAD504DWD Energy Star 50-Pint Dehumidifier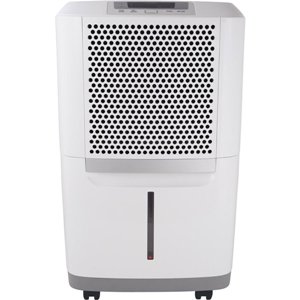 With the ability to remove up to 50 pints of moisture per day from the air, the Frigidaire FAD504DWD 50-pint dehumidifier also cleans up your air so that you can breathe much better. It shuts off automatically when the bucket fills up with water and you can even set the humidity level at a specific number if you're super picky about the humidity in your home. If you place the unit next to a suitable drain, you can use this dehumidifier 24 hours a day. It operates both efficiently and quietly for your convenience.
A High-Power Dehumidifier
The Frigidaire dehumidifier is also extremely powerful, even having the ability to remove moisture after a disaster such as a flood. It works quickly but efficiently so that you don't have to wait long to notice results even if you live in areas that get very humid all year long. Because of these things, your air conditioner won't have to work as hard; therefore, you can save a lot of money on your utility bills. Dehumidifiers can be set to work until the water fills up the tank or 24/7 for your convenience but they are extremely low-maintenance on your part in both of these circumstances.
A Very Well-Made Appliance
Most of all, the Frigidaire dehumidifier is a high-quality, well-made appliance that you can rely on to work properly for many years to come. Unlike lesser-quality dehumidifiers, this unit runs fairly quietly and is therefore appropriate even for rooms where people sleep. In fact, you can put this unit in any room that has too much humidity in it, including basements, bathrooms, and upper-level rooms. The tank is easy to empty and the unit is simple to move from one room to another, meaning that even the elderly will find it a very simple appliance to own and use.
There are numerous benefits to purchasing a good dehumidifier, including many health benefits. You'll never have to wonder about the humidity level in the room because this unit gives you an exact number. Its unique design means that it won't be an eyesore regardless of where you put it. Because Frigidaire is a reputable brand, you can count on this dehumidifier to keep mirrors and window panes from fogging up and mold and mildew from forming, which can provide you with great peace of mind month after month, year after year. It is definitely a worthwhile product to purchase.
8. Inofia 30-Pint Dehumidifier
With an attractive design, the Inofia dehumidifier removes up to 30 pints of water per day from the air and can accommodate roughly 1050 square feet of space. You can use it in your basement, bathroom, garage, or cellar, making it a great unit for both home and commercial use. In addition, if you want a simple unit and one that is super easy to operate, this unit is one to consider. You simply remove it from its packaging, plug it in, set the humidity level where you want it, and the unit does the rest. It is easy and uncomplicated, not to mention user-friendly and very reliable.
Hardly Noticeable in the Room
Regardless of which room you put it in, the Inofia dehumidifier is compact and attractive, even having a recessed handle that makes it easy to pick it up and place it somewhere else. Its unique design means that you'll hardly notice the unit is there. It comes with a one-year guarantee and a lifetime of tech support in case there are any problems. It is also an inexpensive unit, making its purchase not only a wise decision but a very economical one as well. It works quickly and will lower the humidity level in the room in a matter of hours, providing you with the peace of mind that you deserve.
You can operate this unit in one of two ways: by running it until it automatically turns off and then emptying the water out of the bucket or by running it 24/7 once you place it near the right drain area. It can help remove the humidity in any room in your home and because it is low in price, you can even purchase more than one and place them in the rooms that need it most. The unit operates quietly as well so you don't have to worry about it making too much noise when you're trying to concentrate on other things.
When You Need an Effective Dehumidifier
Dehumidifiers that work right and for a long time are always what you want and the Inofia dehumidifier never lets you down. In fact, you can simply forget about it once it's plugged in, especially if it is placed near a competent drainage area. It is user-friendly and sturdy enough to last for many years to come. Plus, its efficiency and good looks make it a very smart purchase on your part. Look no further for a great dehumidifier that you don't have to spend a fortune on because this is it.
Dehumidifiers Buying Guide – How To Choose A Dehumidifier For Your Home

One of the top priorities that people have when it comes to their homes is making sure that it is a comfortable place to live. Nobody particularly enjoys coming home from a long day of work, only to find that their house is just as stuffy as the rest of the outdoors and that it is far too hot to really relax. Likewise, most people don't enjoy waking up to a stuffy room either. The main cause of a feeling of stuffiness in rooms is humidity, and thankfully, this is something that is relatively easy to fix. There are many things that you can do to keep your house from becoming too humid, but sometimes, simply opening the windows and hoping for the best isn't going to get the job done, especially when you live in a naturally humid area.
One of the best things that you can do to try and combat humidity is invest in a dehumidifier. Of course, when you begin the search for a dehumidifier you will soon realize that there is so much more to investing in one than choosing what fits your budget best. You have to think about the size of the dehumidifier and its portability while also thinking about other aspects, such as how often you will need to do maintenance on it and how well it will fit into your budget. These are just a few of the things you need to consider when purchasing a dehumidifier for your home.
With this being said, you can easily find a dehumidifier that suits your needs. After some research, time, and effort, you will surely be able to narrow down your priorities into one or two choices to make. From here, it is all a matter of sorting out what is most important to you and knowing what you can reasonably expect from your dehumidifier. This means that you should begin thinking about what features you would want in your dehumidifier while also thinking about just how much space you have for one.
Knowing What Size You Need
People who live in areas where humidity is a rampant problem might not be satisfied with one small unit that can keep a single room clean. Likewise, people who have the occasional bad summer might find that getting a whole-house unit is a slight bit overkill. The size of the dehumidifier is arguably one of the most important things to consider when you are shopping around, as the size will determine the capacity, the price, and how much of your house will be dehumidified.
The smaller units typically range from being able to remove 30 to 35 pints of moisture. These are usually also better suited to areas that are damp, possibly from groundwater leaking in, rather than a chronic humidity problem. However, for people who might just be sensitive to too much humidity, they can help out in relatively small rooms. Generally, these are going to be some of the least expensive sizes you can get.
Medium-range units usually aim at being able to remove around 50 pints of moisture per day, which is considerably better than their smaller counterparts. If you are looking for a single-room dehumidifier, these are probably going to be the range you want to look at. When it comes to pricing, these can range from being relatively inexpensive to costing as much as the larger models, depending on all the features the dehumidifier has. They are often well worth their price though.
Larger units, as you might be able to imagine, can handle a little bit more than the medium-ranged ones. Depending on the model, these dehumidifiers aim to remove about 60 to 70 pints of moisture from the air per day, and they are also better equipped to deal with areas with more intense humidity as well. Some medium units don't handle the intense humidity as well as they could, which is something to think about when you are comparing the two models. Surprisingly, these units don't offer as much noise as their smaller counterparts, which is something that many people can appreciate when they are keeping a dehumidifier in the bedroom. If you have a rampant humidity problem, this might be one of the best choices to make, saving you from investing in a whole-house unit.
Finally, there are the units designed to dehumidify the entire house. As you can expect, they are going to be quite a bit more expensive, but they also cover the entire house. Sometimes, you can add them to your HVAC system, and other times, they come in their own portable units. If you are eyeing these models, this is a choice that you will have to make. More often than not, these units tend to be the best for people who live in humid areas and can afford to keep these dehumidifiers maintained and in good condition.
Understanding the Importance of Features
Knowing the dehumidifier size you need is important, as it will quickly narrow down the choices you have to make down to just one category, rather than several. This will also help you know where your budget range is and how much you can afford to spend on special features. Some features that dehumidifiers have are far more important than others, as some features are there simply to make life just a bit easier. As you look through the features that a good dehumidifier should have, you will want to prioritize which ones are the most important for your situation so that you can make the best choice.
Easy Empty Tanks and Buckets
One of the more troublesome parts of owning a dehumidifier is having to empty out the tank every so often when it gets full. After all, the moisture that it collects has to go somewhere. This is one of the parts of maintenance that you will be doing regularly when you invest in a dehumidifier, therefore, you will want to make sure that the dehumidifier you choose has tanks that are not only easy to access, but easy to detach and empty. This will make cleaning and caring for your dehumidifier much easier. If you want to make sure that your life is as hassle-free as possible while owning a dehumidifier, this is going to be one of the most important features to keep your eyes on.
Hose Connections
Typically, the higher-capacity dehumidifiers are never going to be "easy" to drain out. Because of this, they come with an alternative that you can consider: hose connections. A hose connection is simply a hose that connects from the tank of the water to a floor drain. This means that all the water in that tank is going to go directly down the drain, saving you quite a bit of time and effort trying to wrestle a 70-pint tank to a place where you can empty it. Of course, if you are looking for a feature such as this one, you will want to make sure that you have a drain where the water can go, or somewhere else that you can connect the hose so that you can make good use out of it. Do keep in mind that you will still have to clean the tank regularly, although it won't be nearly as problematic without all the water in it. If you are looking at large-capacity dehumidifiers and you have a place where all the water can go, a hose connection is going to make your life much easier in the long run.
Filter Alerts
You might not realize it, but many dehumidifiers also have air filters that they use to properly dehumidify the house. As with any appliance that has any sort of filter, you are eventually going to need to clean out the filter and potentially replace it. Neglecting this type of task can only create hazards, risks, and losses in your dehumidifier, and that is something that nobody wants to have happen. However, if you are not used to owning a dehumidifier, you might not know what to look for when it's time to change the filter. You might not know what some of the signs of a clogged or full filter are, making it much more difficult for you to actually clean it out. Thankfully, many of the newer dehumidifier models come with indicator lights that will inform you when it is time to change the filter. If you want to make sure that you are staying on top of maintenance when it comes to your dehumidifier, this is another feature that you will want to pay close attention to.
Frost Sensors
Surprisingly, not all areas that are humid are also warm. In fact, many people invest in dehumidifiers for relatively damp places, such as basements. As many people know, basements are some of the coldest parts of the house. Because of this, some dehumidifiers are actually at risk for frost forming on the coils of the machine itself. Understandably, frost on the coils is something that can end up breaking the dehumidifier, which is something that nobody really wants to have happen. Thankfully, there are some dehumidifiers that come with built-in frost control sensors which turn the dehumidifier off if there are any signs of frost forming. If you are planning to keep your dehumidifier in an area where it is cool and there is the potential for frost to form, this is a feature that you will want to make sure that your dehumidifier has.
Intuitive Interfaces
Most people don't particularly enjoy standing around trying to figure out which button does what, even with instructions right in front of them. Unfortunately, there are some dehumidifiers out there that focus on having more of everything, including buttons and controls. If you simply want a dehumidifier that can decrease the humidity in the area, then you will probably want to make sure that the dehumidifier you go with has relatively user-friendly controls. This means that it will have straightforward buttons, easily labeled, and concise. This will be especially helpful if you find yourself getting up in the middle of the night to adjust the dehumidifier, as nobody really wants to navigate complex controls when their eyes are still blurry from sleep.
Another feature that fits well into this category is having an auto-restart function on the dehumidifier. As the name might suggest, this feature is focused on automatically restarting the dehumidifier if it loses connection to power. While this might not be extremely useful when you are home and right beside the dehumidifier, if it is the middle of the night and the power cuts, this can be extremely helpful. Additionally, if you are away from home and you leave the dehumidifier running to keep extra humidity from building up inside your home, you can expect this feature to kick in if the power goes out while you are away. More often than not, this feature is going to be most useful to people who live in areas that are prone to power outages, whether that is from storms or high winds taking down the power lines.
Knowing How to Purchase a Dehumidifier
Now that you know exactly what to look for in your dehumidifier, you should have a good idea of how you are going to go about investing the money into it. First things first, you will want to make sure that you are getting a dehumidifier of an appropriate size. Getting one that is too small will simply be a waste of money, and it will not really provide much benefit to you or your humidity levels. Getting one that is too big will only be a waste of money in other aspects, and depending on just how big it is, it can actually dry out the air in your house. Essentially, finding the size of the unit you want will rule out a lot of the competition, making it much easier for you to prioritize features.
When it comes to prioritizing those features, you need to think about two things. You will need to consider what your budget is, as some features can drastically raise the price of the dehumidifier. You will also need to think about what benefits you the most. If you live in an area where there is nothing but storms and tropical weather, it is highly unlikely that you would want to spend the extra money getting a dehumidifier that has a frost sensor. Likewise, if you plan on getting a relatively large dehumidifier, you might find that it is worth it to get one with a hose connection rather than trying to drag a 50-pint tank outside to dump it all out.
Final Thoughts…
These are the kind of factors you need to weigh when choosing the best small dehumidifiers 2020. This should narrow your choices down enough to where you can simply choose the one that is obviously best for you, if there is more than one choice left. Before you know it, you will be able to keep everyone happy, healthy, and comfortable with low humidity levels with your brand-new dehumidifier.