If you want to humidify a large room, then you'll need any of the humidifiers that are listed and reviewed on this list. We've selected each humidifier and evaluated them in terms of performance, reliability, ease of use, price and of course the area of coverage. So without wasting any more time, let's take a look at these 5 best humidifiers for large rooms and find out why they are our top picks, shall we?
Best Humidifiers For Large Rooms
1.AIRCARE MA0800 Digital Console-Style Evaporative Humidifier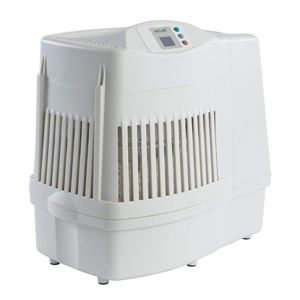 If you are looking for a quality and effective humidifier that will keep the humidity in your area at an optimal level, then look no further than AIRCARE MA0800 Digital Console-Style Evaporative Humidifier. It is steadfast and capable of humidifying the large surface of your room in a few moments. This useful and well-designed small humidifier makes maintaining the right humidity levels easier than before.
With AIRCARE MA0800, your baby and you will no longer experience dryness in winter again. In addition, this humidifier is one of the spectacular solutions to prevent the skin of your baby from dry skin allergies. In addition, MA0800 Digital Evaporative humidifier from AIRCARE will prevent congestion, cough, and other skin irritations.
One great thing about MA0800 digital console-style humidifier is that it is budget-friendly and affordable. It is your best pick if you don't have a high budget. With the great features and quality of this humidifier, it is one of the best on the market today.
This is the healthiest range of humidifier required in an environment to keep viruses and airborne allergens far away, going by the AIRCARE MA0800 Digital Console-Style Evaporative Humidifier review.
Features and Functionalities
Digital Humidistat – Used for tracking the present levels of moisture in the air and regulates the output of the device accordingly.
Three-speed Fan and Quiet Setting – Makes the humidifier quieter at night, adds to its ability to keep up, even with it having reduced amount of space it can cover.
Automatic Shuts-off – This is the feature that will turn the unit off automatically when moisture levels reach the preferred point or when it is empty.
Pros
It is very effective in keeping the humidity in any environment at optimal level
Quite affordable
It is energy efficient
Very easy to put together
Helps you breathe easier and keeps the moisture in the air
Its heavy duty plastics make it durable and will last for a very long period
Maintains the cool temperature in your home
Eliminates the chances of destroying the furniture and other electronic gadgets from the dry air
Offers fast relief from the skin allergies and dryness
Combats mold and moist
It keeps rooms or offices at their desired humidity.
MA0800 Digital humidifiers are easy to use, and it functions excellently well
Cons
Refilling the water bottle is not as easy as claimed
Summary
Appropriate humidity can ease snoring, alleviates scratchy throats, dry eyes, and also hydrates your skin. Increased humidity using MA0800 humidifier will reduce allergy signs and asthma tremendously. Furthermore, this humidifier protects collectibles, musical instruments, fine furniture, and wood floors. With MA0800, you will feel warmer for a very long period, making you lower your thermostat setting to save you some bulks on energy.
Final Verdict
A lot of positive features combined with the low price make AIRCARE MA0800 Digital humidifier a good choice and one of the best on the market today. In addition, it is receiving positive reviews from customers on regular basis, showing that it performs to expectation. Hence, it is recommended for your purchase as you will never regret your action now and in the near future.
2.Aprilaire 700 Automatic Humidifier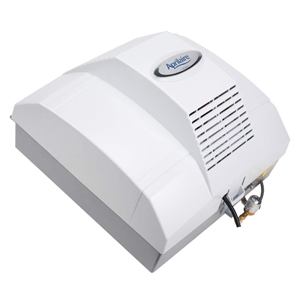 Are you scared of touching anything metallic in your house as a result of inert electricity? Are you suffering from dryness in your home? Then it is the right time for you to buy Aprilaire 700 Automatic Humidifier. When it comes to whole house humidification, this humidifier brings a noteworthy development. In addition, it is second to none in terms of performance and functionality.
Aprilaire 700 Automatic Humidifier is a central unit that functions well in multi-level houses and offices. It uses the warm air from your furnace to transport moisture-mist directly through the furnace vents in the building and keep energy use reduced.
Aprilaire 700 humidifier has the power to raise humidity in your home to levels higher than 50% and do it competently, with just a little ability. On the other hand, this unit is quiet and smooth, particularly when compared with a number of the console models.
Aprilaire 700 Automatic Humidifier doesn't have loud fans of its own because it integrates in a straight line with the HVAC system you have mounted in your home.
Features and Functionalities of Aprilaire 700 Automatic Humidifier
Set It and Forget It – Allows you to put in your preferred humidity level on the humidity control. After that, the humidifier automatically maintains that level.
Automatic Humidifier Control – Reveals to you the indoor humidity level
The On/Off Indicator – This feature adjusts the water panel indicator and Call dealer for Service light.
Water Panel (Filter) – Designed specifically to provide adequate humidity to your home all through the heating season.
The Indicator – Warns you when it is time for a substitute.
Automatic Digital Humidifier Control – Allows the humidifier to deliver optimum levels of humidity control
The Motor and Fan blade
The Water Panel – This is the compartment that contains water. Water panel must be changed twice in a year for decent humidifying in the season.
Pros            
Reduces energy costs and helps you feel warmer in colder months, leading to reduced heating costs
It needs a bit of maintenance to keep it working efficiently.
It is quiet in operation
Comes with programmable features that make its ease of use exceptional
Cons
Can be a little complicated to install for you if you are not a DIY person
It doesn't have non-volatile memory, meaning that if power is lost, it will lose its programming. Nevertheless, to reprogram it is easy.
Summary
Aprilaire 700 Humidifier is worth buying because it is one of the most powerful humidifiers on the market today. One great thing about this unit is that you can set it and forget about it. It keeps you warmer for a very long period, thereby reducing heating costs. This humidifier is a must-have for people having dry air signs such as nasal hypersensitivities, respiratory sensitivity, dry lips, and itchy dehydrated skin.
Final Verdict
The bottom line is that with the Aprilaire 700 Automatic Humidifier review conducted, this unit is the best option for the entire home humidity in a central location. You get rid of the unhealthy and damaging effects of excessively dry air in your home and family when you make a choice of Aprilaire 700 Humidifier.
It is automated in nearly all areas, it is big enough to support the whole house, it is very easy to use, while it has an easy maintenance process. It is just the best of the best. It is therefore recommended to you whether you are an experienced or beginner user of humidifier.
3.Honeywell Cool Moisture Console Humidifier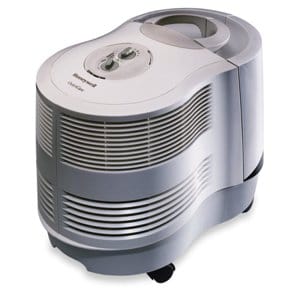 The indoor atmosphere can be a bit dry, making things uncomfortable for the occupants of many homes. Dry air can lead to nasal congestion and also add to quite a lot of different respiratory conditions. Honeywell Cool Moisture Console Humidifier is an effective and quality humidifier that will deal with these issues. One great thing about Honeywell console humidifier is that it can work well in large areas.
The Honeywell Cool Moisture Humidifier gives soothing, imperceptible moisture for dry air relief in many rooms of your home. It is a big room humidifier with two 1.5-gallon water tanks. This will let the unit run for about 24 hours on the low setting. These two detachable water tanks are easy to clean and fill.
Features and Functionalities of Honeywell Cool Moisture Console Humidifier
Adjustable Humidistat – automatically Turns this advanced humidifier on and off automatically in order to maintain set humidity levels
Three Speed Settings – Let you adjust the moisture output
Wicking Filter – Gets rid of impurities from water, reduces white dust and provides clean moisture output. Make use of only genuine Honeywell Replacement Wicking Filter Model HC-14 (Filter E) for optimal product performance.
Dual Tanks – Guarantees long-lasting humidification power, reducing your need to monitor and re-fill the water in your humidifier regularly.
QuietCare Technology – Makes the unit one of the quietest humidifier you could ask for.
Adjustable Humidity Settings, a lot of outputs and extraordinary energy efficiency
The castors – Make the unit easy to be moved around
Pros
Perfect when it comes to humidifying a large area
The dual tank system makes the humidifier easy to fill
The controls are very easy to understand
It is quite simple to get set up and ready for use.
Just one dial for the fan speed and a different dial for setting the humidity level
It has the ability to put out much humidity at a time
Quite effective and perfect for treating dry air
Powerful and great enough to work on many rooms, provided that the place is fairly open
A great humidifier for absolute comfort
Keeps your home plants healthier and ensures the growth of the plant with the help of the moist air, unlike some humidifiers that will destroy the home plants in your living rooms
Cons
It can be a bit noisy when you turn the fan up with the humidity level set to the maximum. But it can be nice and quiet on the lower levels, which is preferred by most people
Summary
When it comes to shopping for humidifier, there are many options available, making it difficult to choose the best. Nevertheless, when you buy the console humidifier made by Honeywell, you will be buying the best on the market and also get permanent relief from whatever dryness you may be experiencing.
There are quite a lot of positive Honeywell Cool Moisture Console Humidifier reviews than negative to prove that it is one of the best on the market today.
Final Verdict
One major factor you must consider when you are considering using a humidifier in your house is the functionality and efficiency of that unit you want to buy. The truth is that when it comes to usability, functionality, and efficiency, there is no other humidifier that is worth buying than the Honeywell Cool Moisture Console Humidifier.
It comes with excellent design and the body and general look is totally different. Moreover, this humidifier is a great buy and therefore recommended for you if you suffering from dry air in your home. It will get rid of your dry skin allergies.
4.Vornado EVDC500 Energy Smart Evaporative Humidifier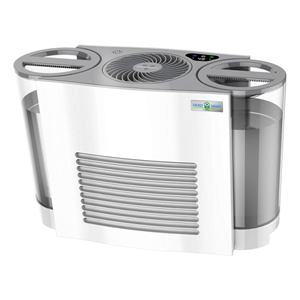 If you are looking for the humidifier that guarantees calm breathing surroundings with rest of mind, the Vornado EVDC500 Energy Smart Evaporative Humidifier is the answer. It will humidify your entire room with just 90 percent less energy. It comes with great features that make it stand out from the crowd and second to none to all other available smart evaporative humidifiers on the market.
Vornado EVDC500 Energy Smart Evaporative Humidifier makes use of a wick to humidify the air in any room naturally and will not leave wet mess on the surface around it, unlike an archetypal misting humidifier. The unit humidifies in the way nature proposed. Despite the fact that you cannot hear its sound while working, the difference is surely clear.
EVDC500 smart humidifier knows the quantity of circulation and humidity required to maintain your perfect surroundings and makes adjustments automatically. EVDC500 makes use of the Vortex Action to humidify the air in your room speedily. The air flows quick and gentle to create steady, natural comfort, making it different from any other humidifier on the market.
Features and Functionality
·        The Leaf Button – This feature will turn the humidifier off when it doesn't have water again. It will also conserve more energy when pressed.
·        Low-water Indicator – Reveals when it is time to refill the tank
·        Energy DC Motor – Makes the unit energy efficient.
·        Two SimpleTank System 1-gallon Tanks – This feature gives about 4-gallon output in each 24 hours and offers for easier cleaning and refills
·        Auto Shut-off — Low-water indicator light shows when it is time to refill the tank or the humidifier turns off automatically when it lacks water
·        Energy Smart Mode – Controls humidity circulation automatically
Pros
Customizable Humidity Settings matched with specific Auto Humidity is used for tailoring the natural evaporation process, leaving a faultlessly humidified space free from the white dust that mist leaves behind.
The EVDC500 makes sure that you have a comfortable breathing environment without problem
The humidifier boasts an apparent, simple to fill and easy to use and maintained 1-gallon tank
It is a great way to conserves electricity
With this humidifier, your satisfaction is guaranteed!
Cons
As far as EVDC500 Energy Smart Evaporative Humidifier is concerned, there is no serious or negative issue discovered.
Summary
If you are searching for the best humidifier that will ensure a calm atmosphere, then your search is not complete if you have not discovered Vornado EVDC500 Energy Smart Evaporative Humidifier. The outstanding features of the humidifier make it one of the best humidifiers on the market today. Give this humidifier a try when next you are shopping for a humidifier for your home use.
Final Verdict
This Vornado EVDC500 Energy Smart Evaporative Humidifier review had revealed all you need to know concerning what makes this humidifier a quality and best humidifier. It is no brainer to use this unit, and it will last you for a long time. However, you must give it adequate maintenance to last long. If you are keen about quality and efficiency, then give Vornado EVDC500 a try. You can never be disappointed for doing so!
Conclusion
Those are the 5 best humidifiers for large rooms that you can buy and enjoy the benefits of adding cool or warm moisture in the air. If you have a large and spacious room that you want to humidify, then you can't go wrong with any of the humidifiers reviewed above. Any questions about choosing large room humidifiers can be left in the comments section below and we'll get back to you with our thoughts as soon as possible.