An air purifier that covers only a small to medium sized room will not give you the best performance if you have a large or extra large room to purify. That's where large room air purifiers come in handy. In this guide we've reviewed 3 of the best air purifiers for large rooms spaces to help you choose the right type of air purifier that will meet your air cleaning needs depending on the size of your room, your budget and other features such as performance, quality, efficiency and durability.
Best Air Purifiers For Large Rooms Spaces
1. Blue Pure 211+ Air Purifier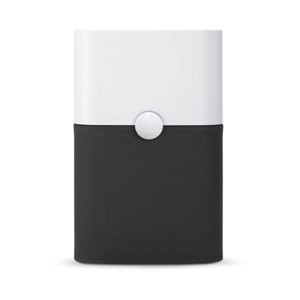 Do you want to sleep easier, breathe comfortably, and get rid of daily smells like pet and food odors without using harsh chemicals that mask odors?  Blue Pure 211+ Air Purifier is the solution. It will allow you to easily choose among the 3 diverse types of fan speeds to get rid of allergy causing odors and pollutants with just an easy, user-friendly one-switch control. B073WJL99W
Blue Pure 211+ is a powerful air purifier suitable for any room and will clean the air in a room as large as 540 square feet. It falls in the category of the top quality air purifiers on the market at the moment. Moreover, it boasts a great modern design, and particularly perfect when it comes to servicing large rooms.
With the compact build of the machine, you can put it anywhere in the room, but ensure that there are no any obstacles around it, which can obstruct its 360-degree air circulation. Another interesting thing about 211+ is that it is lightweight and petite.
However, to make it work more efficiently and not get knocked down when you are doing your own home chores, you must select where you will place it cleverly.
Blue Pure 211+ Air Purifier Features and Functionality
–  The Fabric Pre-filter – This is the feature used for removing large contaminants like hair and dust
–  Particle Filter – It is responsible for dealing with bacteria, dust mites, pet dander, mold spores, and pollen. In addition, it helps the air purifier to clean your large room of up to 540 square feet in almost 15 minutes.
–  Carbon Filter – This is the feature that deals with chemicals, smoke, cooking odors, and VOC.
–  3 Fan Speeds – Used for changing the pace at which air can be cleared. It also implies that it is ideal for some different rooms.
 Pros:
It reduces cost on energy bills
Different fan settings of low (30W), Medium (45W), and High (61W
Quite easy to operate and maintain
Virtually quiet while working
Covers large area of the room of up to 540 square feet
360 degrees air circulation
Washable filters, unlike some other available air purifiers where you will have to change the filters in a short period of time
It is energy star rated for most excellent in class energy performance
Cons:
Exorbitant maintenance and initial cost
Doesn't come with HEPA filter
Summary 
Without mincing words, Blue Pure 211+ is a marvelous air purifier. It receives rave feedback and reviews from users and professionals alike. In fact, it is perhaps the best energy efficient air purifier you can get on the market at the moment, particularly if the area you want to cover is large.
Final Verdict
By and large, Blue Pure 211+ Air Purifier has certified results via autonomous testing from AHAM or Association of Home Appliance Manufacturers. This machine is for you if you are looking for a powerful air purifier with a clean air delivery rate of 350 cubic feet per minute and clean the air in a large room of 540 sq. ft. in just one hour. More importantly, it will make you sleep easily, breathe comfortably, and eliminate any offensive odor in the air of your room.
2. AeraMax 300 Large Room Air Purifier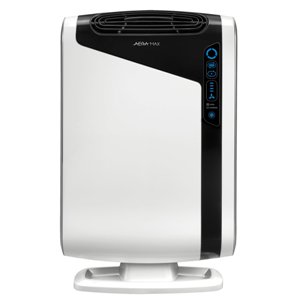 Are you seeking a quality air purifier that is allergy and asthma friendly? Look no further than the AeraMax 300 Large Room Air Purifier. This large room air purifier warrants utmost consideration because it is among the most powerful and top air purifiers that use sophisticated technology on the market today. B00D8Y1YNC
AeraMax 300 room air purifier is capable of purifying the air in rooms that are from 300 to 600 square feet large. Therefore, this product is a must-have for you, if you are living in a large room and also having any health issue and just don't want to expose yourself to bad air.
AeraMax 300 Large Room Air Purifier is a fancy machine with cool design that uses four different levels of filtration process and filters that aim at allergies and pollutants. One great thing about this air purifier is that it is endorsed by the AAFA (Asthma and Allergy Foundation of America), meaning that it is a safe product to use by all and sundry.
Moreover, it is very efficient in killing flu virus, plus capable of destroying the influenza virus. It is boasts a lot of smart sensors that can put all its functions on automatic mode. Consequently, it can tell you the quality of the air in any of your rooms. More importantly, you don't have to worry about its quality and how safe it is because it had been subjected to independent testing and confirmed safe and of high-quality.
Features and Functionality of AeraMax 300 Large Room Air Purifier
–  True HEPA Filter – Useful for people who are asthmatic and suffer from allergy. The incorporated AeraSafe antimicrobial treatment protects against the development of the odor that causes mildew, bacteria, and fungi.
–  Carbon Filter – Captures outsized airborne particles and gets rid of odors
–  AeraSmart Sensor – Adjusts the speed of the fan automatically to keep air purified.
–  The Air Quality Indicator – Reveals the levels of air quality. The Amber level means that quality of air is poor; the blue level shows that air is clean, while the red level shows high level of pollutants in the air.
–  Ionizer – Used for collecting airborne particles more efficiently. It does this by creating negative ions that will attach to dust.
–  Replacement Filter Indicator Lights – Alerts you when the Carbon filter and True HEPA filter need to be changed. Change the two of them when the indicator light has changed to RED.
–  Aera+ Mode – Used for increasing air turnover by 50 percent to get rid of extra allergens from air
Pros
Reduces dust from the air tremendously
4-Speed setting of turbo, high, medium, and low
It is long-lasting
AAFA approved
Gets rid of particles such as dander, pet fur, cigarette smoke, dust mites, mold spores, viruses, germs, and allergens safely and efficiently
Very quiet
Eases allergy symptoms and allows you to breathe better
Cons
Summary
The AeraMax 300 Large Room Air Purifier has got a lot of positive feedback from a lot of customers to prove that it is one of the best air purifier on the market and a good investment that will offer you value for your hard earned money.
Final Verdict
Although a four-stage air filter is not always the cheapest unit in its category, but if you think and feel that inhaling clean, and purified air is what will make the incredible difference you are looking for, then AeraMax 300 is worth considering. It is also recommended for you if you are suffering from asthma and several other allergies. With its few negative reviews and more positive feedback from previous users, the quality is guaranteed!
3.Alen BreatheSmart Customizable Air Purifier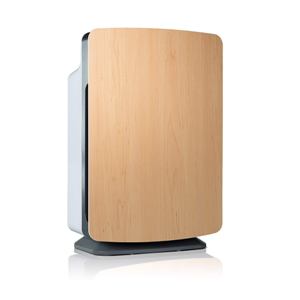 Have you been finding it difficult to get the right air purifier that will get rid of allergens, pet dander, and dust effectively? Alen BreatheSmart Customizable Air Purifier is the answer. B00J8WGLEA
Alen BreatheSmart air purifier can trap a good quantity of air pollutants from the air of your large space, and also eliminates airborne pollutants speedily and efficiently, making it the right choice for you. It can trap up to 98.8 percent of airborne pollutants and will work well in a large space of about 1100 square feet and has great features.
On the other hand, BreatheSmart in an intelligent air purifier that uses SmartSensor technology to make sure your room is clean and fresh when you put it in the auto mode. Thanks to the intelligent sensor that confirms the situations of your room in real time and adjusts the settings as required.
With its air quality indicator sensor, you can get the true position of the situation of your room. This is an extremely accurate indicator capable of sensing and displaying even the least changes in your room condition. You can set it in auto-mode if you don't want to be adjusting the settings of the air purifier all the time.
Alen BreatheSmart FIT50 Features and Functionality
–  Auto-Off Safety Button – This is the feature that disables the air purifier anytime the front cover panel is removed.
–  Cleanable Pre-filter – Improves the life of the HEPA filter and provides more protection against per hair, dust, and other particles.
–  Air Quality Indicator – Allows you to know the quality of air in your room at a glance with the help of the SmartSensor
– The SmartSensor – Adjusts the cleaning ability of BreathSmart to accomplish the best air quality, while getting the most out of the life of your filter, and saving you cash and energy.
–  Lifetime Warranty – To make sure you have enduring years of pure air
–  The WhisperMax Technology – This mixture of perfect tuning and aerodynamics provides you with low sound and superior cleaning capacity.
– The Handle System – Lets you move the unit from one location to another effortlessly
– The Air Cleaner – Designed for capturing airborne pollutants
–  Ionizer Soft Touch Control Switch – It pulls small particles and clumps them together for easier filtration. You can turn it on or off, depending on your preference
–  Turbo-Mode Setting – It is used where there is too much particles, dust, allergens, and pollen indoors and removes harmful particles from the air rapidly. It is the maximum fan setting that boosts filtration
–  Self-Timer Setting – This feature is used when you need a certain setting for hours. It is available in 4, 8, or 12 hours.
Pros
It runs quietly, which makes it suitable for use in quiet places and will not cause disturbances
It is lightweight, making it easy to be carried from one place another
All the features of the air purifier are easy to operate
It traps everything that can cause problem in the air
Four filters of HEPA-FreshPlus, HEPA-Silver, HEPA-Pure, and HEPA OdorCell
It is fully customizable, meaning that you can have absolute control over the style and function of the air purifier from the HEPA filter to the front panel design.
Cons
It is rather expensive
Its operating costs are relatively high
Summary
Alen BreatheSmart is a totally automated unit creates asthma and allergy friendly surroundings by getting rid of nearly all air contaminants such as pet dander, pollen, mold spores, and dust. You can never be wrong with the choice of this air cleaner as it will never constitute a nuisance.
The producers give a 60 Day Satisfaction Guarantee, meaning that you are allowed to return the product within 60 days if you are not satisfied. This is to convince you of the quality of the unit.
Final Verdict
Alen BreatheSmart customizable air purifier is an absolute solution to all the air problems you are having. If you are one of those who suffer from sinus and allergies, or even cook regularly, this is the air purifier for you. It is an Energy Star qualifier, fully automated, and very easy to use.
Useful Tips
Air purifiers for large rooms or spaces are able to filter and purify the air in a large area as large as 1100 square feet. Unless you have a very large room or space in your home or office, you might want to consider an air purifier that covers a small to medium sized room. The size of areas that air purifiers can cover usually range from 200 square feet to as large as 1100 square feet. You should therefore choose an air purifier suitable to the size of the room you want to purify. If you have a large room, go for an air purifier designed to cover large or extra large rooms. On the other hand, if your room size is small to medium, go for an air purifier designed to cover small to medium sized rooms. This is important if you want to get the best performance from your air purifier.
Conclusion
That wraps it up for this short guide on the best air purifiers for large rooms spaces. If you have any questions about choosing a suitable air purifier for your home or office, you can leave it in the comments section below and we'll get back to you with our thoughts.